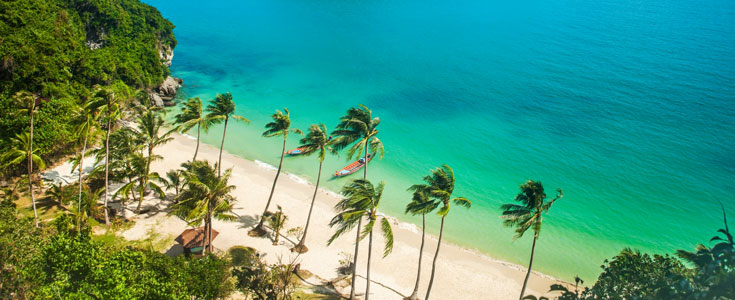 Things To Do And Places To Visit In Koh Samui
Koh Samui is one of Thailand's most popular tropical islands and has long been a favorite destination for holidaymakers from all over the world. Why? Because aside from the spectacular scenery, glorious beaches, and rich cultural tapestry, there is simply so much to see and do!
In this article, we are going to list some of the 'must-see' excursions and locations on the island, with a number of nearby Koh Samui luxury villas to choose from. This will allow you to get a better idea as to what will be available to do on Samui, and subsequently find a convenient and gorgeous luxury villa from which you and your family can enjoy it.
Phetch Buncha Stadium
Phetchbuncha stadium is the hottest spot for all of your Muay Thai viewing needs. There you will be able to view Thailand's favorite sport in the flesh, with some of the most proficient fighters from all over the world. If you are a big fan of martial arts, Muay Thai is among the finest, so this would indeed offer you an ideal night-out.
SEEN Beach Club Samui
SEEN is a gorgeous and exhilarating beach club which boasts reimagined retro vibes. When you visit SEEN, it's like stepping into a time machine and returning to an era where life was simpler, more enjoyable, and a great deal sexier. For an amazing day of swimming, relaxing, drinking, and partying, SEEN is the place for you.
Nearby Luxury Villas
Fisherman's Village
Fisherman's village is a gorgeous part of the island which is one of the oldest villages on Samui. For those who enjoy a spot of shopping and simply wandering around and enjoying the sights, Fisherman's Village is a must-see spot. The best time to visit, however, is on a Friday evening when it comes to life for the night market!
Big Buddha Samui (WAT PHRA YAI)
Wat Phra Yai (commonly referred to as the Big Buddha Statue), is an iconic Koh Samui landmark. This glistening gold statue is perched above sea-level on a small island and can be seen from kilometers away. If you'd like to experience great views of the island whilst immersing yourself in Thai culture, then this is the spot.
Coco Tam's
Coco Tam's is a truly beautiful beach bar with delicious food and utterly friendly service. The beachy boho style space glances over the beach and offers a truly relaxing vibe. You can sit on a beanbag with a cocktail and watch as the fire show unfolds of an evening. Ideal for a family outing.
Nearby Luxury Villas
The Jungle Club Restaurant, Koh Samui
The Jungle Club has a magnificent traditional Thai menu, with French, Italian, and Mediterranean dishes for those with an experienced and adventurous palette. All of the dishes in this restaurant are prepared by the magnificent Chef Wally, who is a culinary wizard with well over 30 years of experience in creating & serving the finest foods. Immerse yourself in an extensive selection of delicacies that fuse Thai & Western food together in the most spectacular arrangements.
Nearby Luxury Villas
Laem Sor Pagoda
One of Koh Samui's lesser-known attractions (though by no means less-impressive), is the Laem Sor Pagoda which lies to the South West of the island. This is a quiet and calm location offering a tranquil yet fascinating day out for those who want to experience true Thailand in all its beauty.
Samui Aquarium & Tiger Zoo
At the Samui Aquarium & Tiger Zoo, you can witness your favorite exotic animals in all of their glory. With a huge diversity of fish and sea creatures from the Gulf of Thailand, you will be able to familiarise yourself with certain species that are unique to the Samui region. In addition to that, the bird shows, and Tiger empire performances have been built upon a love and appreciation for nature and our environment.
Nearby Luxury Villas
Hin Ta and Hin Yai Rocks (Grandpa and Grandma Rocks)
Koh Samui is a natural wonder to behold, but there are certain rock formations that truly stand out from the rest. The most prominent of which are the Grandpa & Grandma rocks. These peculiar formations lay at the Southern end of Lamai Beach (another of Samui's greatest attractions). They have long been a source of giggles and awe from the locals and travelers alike, given how strangely reminiscent they are of the male and female genitalia.
You can visit these rocks on a day to Lamai beach, which is among the finest in Koh Samui. There are plenty of restaurants and bars nearby so you will certainly be able to make an amazing day of it.
Nearby Luxury Villas
Conclusion
Of course, these are merely a handful of the wonderful things to see and do on Koh Samui. If you rent a car or a bike, you will be able to explore the island at your own pace where you will surely come across a gorgeous variety of exciting things to see and do. Just the beaches alone will blow you away. However, if you find yourself in one of the luxury villas listed in this article, you'll likely find yourself lazing on your very own private beach instead.
In any case, if you're looking for a hot tropical adventure that you will remember fondly for years to come, Koh Samui in Thailand should be at the top of your list for your next vacation!
If you have looked through the villas provided but can't quite find something to suit your tastes or requirements, please do not hesitate to contact us. We will certainly be able to find the perfect luxury villa to accommodate you.