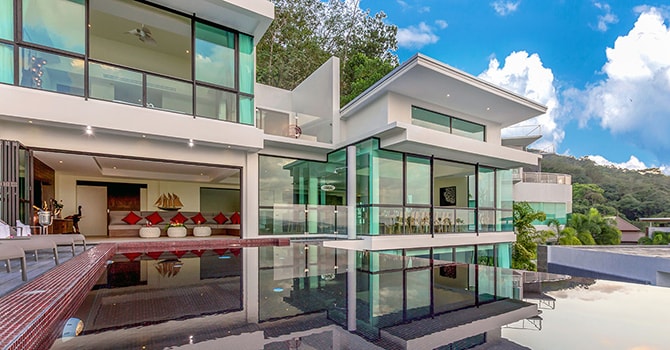 Price Range

$

1200

-

$

1700

/ night
Value purchase
- by
Joey, Netherlands
, March, 2018
We have spent memorable 4 days in villa phukhao with my wife and a few friends. The villa is big, luxurious, with a very high attention to detail. It is the perfect place to spend a relaxing holiday and forget all the worries of life in a big city. A special mention to the personnel of the villa, they were very helpful and provided us with everything we needed. We would definitely come back! Thank you villa phukao!
Value purchase
- by
Maddy H, London
, February, 2018
Starting with the villa - the pictures do not do this incredible villa justice, it really has to be seen to be believed. The design of the villa allows a large group to enjoy time together yet give ample privacy. The bedrooms, social spaces and kitchens are sleekly designed and give a powerful ambience. The panoramic sweeping views are breathtaking. The villa is perfectly located to give you a feeling of being away from it all yet being only a few minutes drive from a fantastic beach and other amenities.
Value purchase
- by
Imke
, January, 2018
It was way more than I expected! The villa is breathtaking; the rooms are big and very comfortable with big beds, amazing shower/bath and multiple sinks and more than enough closet space. All rooms have an amazing view since they used so much glass around the house, so you always have the feeling of connection with nature. I definitely recommend staying in this Villa if you are looking for an amazing place in Phuket. I absolutely loved it.
Value purchase
- by
Karthik
, January, 2019
From communication to amenities to location everything was beyond amazing! Be sure to utilize the onsite cooks as they prepared some good meals for us and catered to the needs of our group. Villa manager was available 24 hours and responded to our queries at any time of the day and arranged many sight seeing trips for us. We would come back here again at the drop of a pin.
Value purchase
- by
Callum
, January, 2019
Amazing modern villa with great views. Lovely staff and great hospitality.
Value purchase
- by
Ivy
, November, 2018
Truthfully, absolutely hands down one of the best places I have ever stayed in. The hospitality that the owner, villa manager and staff have provided to us throughout the trip was impeccable! They have made our Thailand trip an unforgettable experience and we truly appreciate it very much! Exceeded beyond our expectation.
Value purchase
- by
Eddie
, November, 2018
We had a great time at Villa Phukhao! Amazing staff and food! Beautiful house with a beautiful view!
Value purchase
- by
Parin
, May, 2018
The hospitality from OI and the crew was excellent and the location was beautiful. The villa staff were able to help with everything we needed in Phuket, from transportation and tour bookings to sightseeing and private dinners at the villa. It truly made the entire trip hassle-free and I would highly recommend this location to anyone visiting Phuket!
Value purchase
- by
Edwin
, April, 2018
This is quite simply the most incredible home/villa/apartment - you name it - that I've ever stayed in. I loved absolutely everything about this place. I've shared it with my friends and family and hope to make stays here regularly. . I was in paradise. They held an incredible bbq for me and 3 friends. Breakfast each morning was delightful. I could literally write so much about this wonderful villa.
Value purchase
- by
Ishika
, February, 2019
The staff was very helpful and made special arrangements for my parents 25th wedding anniversary. The view from villa is very romantic that too with a private pool. Being here you feel like a real vacation far from the chaos. Thanks Jonathan for letting us stay and must commend on the property that has been maintained so well.
5

/

5

stars

10