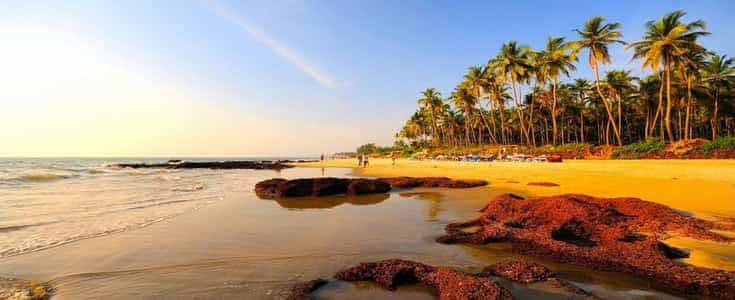 The 10 Best Phuket Luxury Villas
Escape to Phuket and make holiday memories in your very own luxury villa. Nestled in hills overlooking the Andaman sea or directly on the beaches these Phuket luxury villas have it all. Cinema rooms, infinity pools, stunning panoramic views, full-time chef, 5-star service & staff. Whether a family holiday, group celebration, wedding or corporate retreat there is sure to be a villa to suit. There are so many different villa locations to choose from on Phuket and all group sizes can be accommodated with adjoining villas sleeping up to 65. Plan your luxury villa stay on Phuket today.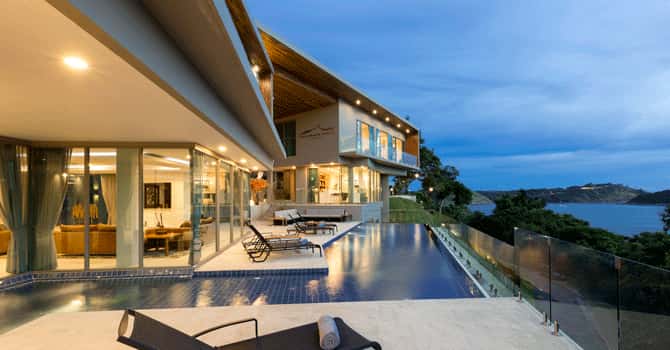 1. Villa Thousand Hills - 8 Bedroom Seaview Luxury Villa
Location: Nai Harn Beach, Phuket
Price range: $1,950 - $6,490 / night
8 Bedroom Seaview Luxury Villa 'Thousand Hills' in Phuket was completed in 2017; this brand new modern villa offers all amenities to be the perfect getaway for your Villa holiday. The flowing living spaces all face the sea, with floor to ceiling glass, balconies and the forever Andaman sea horizon in front. The modern architecture and the mix of wood and modern furnishings give a modern chic feeling, and always comfortable. With spectacular dining, sitting and games areas, plus 3 swimming pools, 2 saunas and a fitness room this villa really is its own private pool villa complex to enjoy.
All bedrooms are ensuite and enjoy uninterrupted sea views. The Family Day areas enjoy breathtaking 180 views of the Andaman sea. The villa is located 50m above and with direct access to Ao Sane beach which is one of the best snorkelling spots in Phuket, and only 800m from popular Nai Harn beach. A stocked wine cellar on standby to select from adds to those perfect sunsets and evening dinners with fresh sea air and the Andaman sea always around you.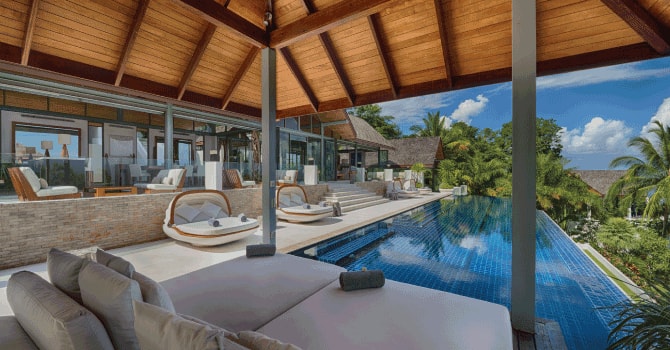 2. Villa Chan Grajang - 6 Bedroom Seaview Luxury Villa
Location: Surin Beach, Phuket
Price range: $1,180++ - $5,500++ / night
Featuring panoramic sea views, generous living spaces, 6 beautifully decorated bedrooms, a private pool deck, landscaped gardens, fitness and entertainment rooms and plenty more, luxury Villa Chan Grajang offers a 5-star experience to all it's Phuket guests. The villa's remarkable blend of Asian and Western design perfectly complements its exquisite tropical surroundings atop Surin Hill. With its convenient location overlooking the lovely Surin Beach, guests are assured of the very best that Phuket has to offer. Eight staff members and a private chef are on hand to cater to guests' every need, serving magnificent cuisine. Villa Chan Grajang is an ideal choice for private celebrations by family and friends, as well as for guests seeking a more intimate experience.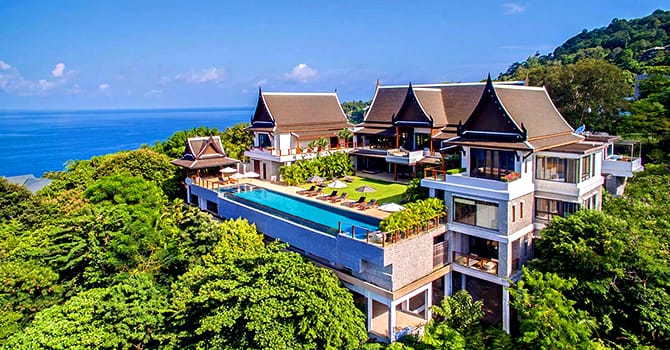 3. Villa Aye - 8 Bedroom Seaview Luxury Villa
Location: Kamala Beach, Phuket
Price range: $2,050 - $5,950 / night
One of Phuket's ultimate experiences, the exceptional 8-bedroom luxury Villa Aye is situated on a hillside with lovely views of the Andaman Sea from the island's west coast. Natural highlights such as native and exotic plants lead to an outdoor sala, infinity swimming pool, sunbeds and loungers, enhancing the tropical atmosphere of the property. The contemporary Thai-themed interiors feature soft and comfortable furnishings throughout the villa together. Thai silk throws and decorative pillows allow guests to stretch out and rest in the finest luxury. The villa also comes with a giant projection screen, high-quality billiard table, wet bar, fitness area and yoga room, as well as a chef and housekeeping staff to ensure a lovely and memorable stay.
4. Villa Dara, La Colline - 7 Bedroom Seaview Luxury Villa
Location: Layan Beach, Phuket
Price range: $1,600 - $3,300 / night
Villa Dara is a stunning luxury villa with panoramic views of the north-west coast of Phuket and the Andaman Sea. Furnished to the highest standard, air-conditioned throughout and has a wifi connection. This villa offers spacious living areas inside and out for guests to enjoy their vacation. There is a large open plan living area and dining area with European and Thai kitchen. Seven en suite bedrooms provide comfortable accommodation for 14 guests. The extensive sundeck surrounds an outdoor seating, dining tables, sunbeds, umbrellas and 20 x 8-metre infinity-edge swimming pool enticing guests to relax and unwind whilst being looked after by the excellent staff. Undercover Parking is available for 2 to 3 cars.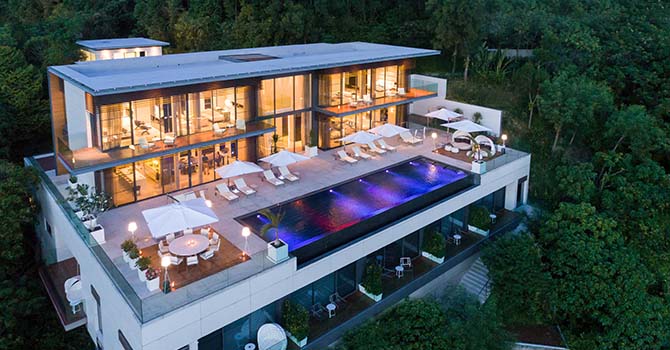 5. Cliff Top Residence - 6 Bedroom Seaview Luxury Villa
Location: Ao Yon Bay, Phuket
Price range: $4100 - $6500 / night
Luxury 6 bedroom Sea View Cliff Top Residence sits overlooking the turquoise waters of stunning Ao Yon bay and the far off islands around Phuket. The ultimate choice for large groups, family gatherings, business retreats or wedding parties, The Residence features two Master Suites with separate kitchenettes and living areas for ultimate privacy. Two Junior Suites offer spectacular views of the sea and open directly onto the expansive villa sun deck. Two Deluxe Suites feature panoramic bay views from a private terrace and include all the luxury amenities of the other rooms such as elegant bathrooms with rain showers. Cliff Top residence is the epitome of tropical luxury, boasting a private gym, spacious sauna, and expansive oversize infinity pool complete with sun-drenched lounge chairs and plentiful nooks to read, relax, and renew.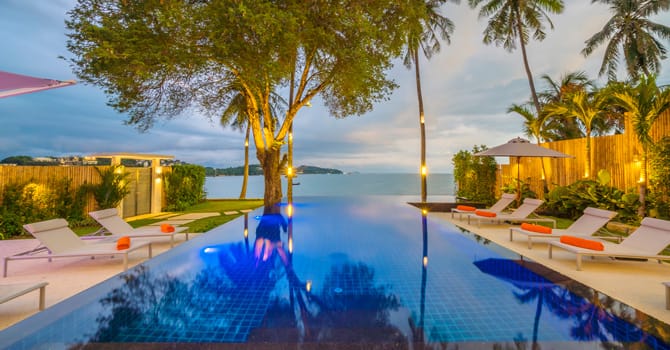 6. Villa Baan Amandeha - 10 Bedroom Beachfront Luxury Villa
Location: Ao Yon Bay, Phuket
Price range: $4,595 - $13,340 / night
The expansive 10 bedroom luxury Villa Baan Amandeha is the ultimate tropical escape - perfect for large groups, wedding parties, business travel and family gatherings. Set directly on one of Phuket's most stunning white-sand beaches, this spacious estate is unparalleled in style and beauty. Featuring an award-winning oversized infinity pool, multiple indoor and outdoor lounge areas, incredible sunset ocean views, and a beach at your doorstep, this villa is truly unforgettable. With unique decor, modern amenities, a fully equipped spa and steam room as well as a pool-integrated jacuzzi, you'll find yourself never wanting to leave this island paradise. Villa Baan Amandeha is perfect for everything, from a casual beachside family lunch to a dazzling sunset dinner party.
7. The Aquila - 7.5 Bedroom Seaview Luxury Villa
Location: Kamala Beach, Phuket
Price range: $1,650++ - $7,500 ++ / night
Luxury Villa Aquila in Phuket is located on private millionaires mile cove on Kamala beach. Build on a clifftop, bordered by a dense tropical jungle with a breathtaking panoramic view of Andaman Sea. A natural accessible waterfall flowing from the mountainside down to the sea makes this an exceptional private estate, which bespeaks style and glamour. Four impressive pavilions designed with a blend of contemporary and traditional Asian style. The villa features, direct ocean access with a reef starting 5m offshore, 30 meters infinity pool, spa, gym, library, games room, bar and a private movie theatre, vast entertaining spaces, seven bedrooms with en-suites, additional children's bunkroom, two large living and dining pavilions. The fully staffed villa is perfect for families, groups or events.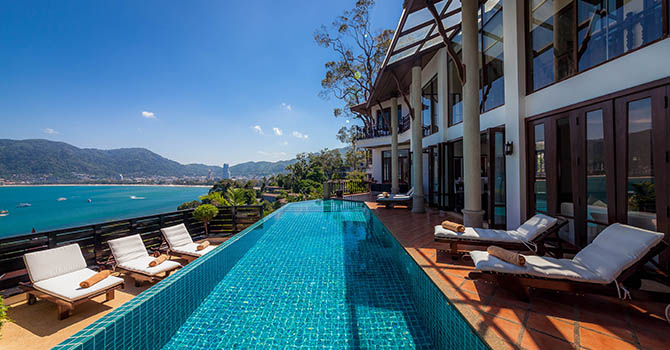 8. Baan Paradise - 5 Bedroom Seaview Luxury Villa
Location: Patong Beach, Phuket
Price range: $900 - $2,200 / night
Luxury 5 bedroom Hilltop Ocean View Baan Paradise is the ultimate tropical escape - perfect for large groups, wedding parties, family gatherings or even a corporate function or fitness retreat. Situated at the top of a lush hillside near beautiful and serene Karon beach, this splendid estate features an oversized ocean view infinity pool, the latest Bose audio/visual entertainment system throughout and stylish indoor/outdoor living and dining areas, Baan Paradise is truly unique. Complete with a combination of modern amenities and the creative use of traditional Thai decor and antiques, the Villa is a perfect place for entertaining, relaxing, and enjoying the stunning scenery and adventures activities on Phuket.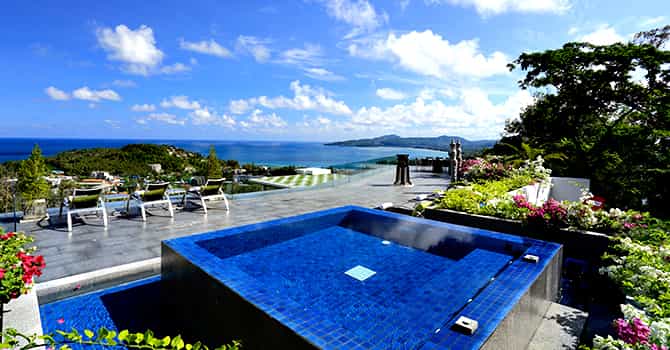 9. Villa Zavier, Vertigo - 8 Bedroom Seaview Luxury Villa
Location: Surin Beach, Phuket
Price range: $1,580 - $4,810 / night
On the world-renowned island of Phuket, set high up in the island's most sought-after hillside location, sits Luxury Villa Zavier with the best views of the breath-taking blue waters of the Andaman Sea. A contemporary design villa with a 3,000 square meters of floor space thoughtfully set out over 4 floors with spacious living areas and 8 bedrooms with spectacular sea views and luxurious fittings and features. The villa is equipped with state-of-the-art CCTV cameras and security alarms, western-style and Thai-style kitchen, indoor dining, roof terrace bar and plunge pool with Jacuzzi, garden, barbecue, 42-meter freshwater infinity pool with built-in Jacuzzi and children's pool, golf driving range, putting green, pool table, bowling lane, table tennis, 2 fitness room and cinema room.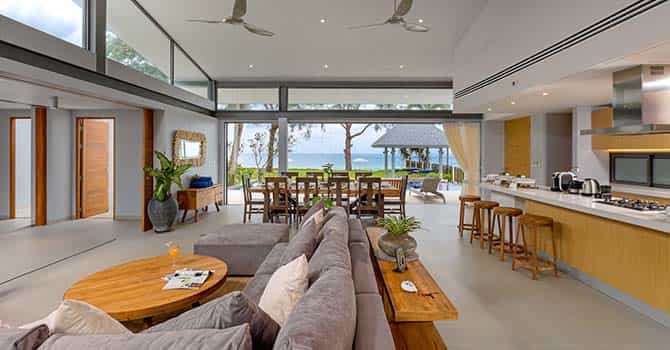 10. Twin Villa Natai - 10 Bedroom Beachfront Luxury Villa
Location: Natai Beach, Phuket
Price range: $800++ - $3,400++ / night
Uber-luxury villa 'Twin Villas Natai' on Natai Beach, Phuket consists of two exquisitely designed interconnecting 5 BR Villas that can be combined into one expansive 10 bedroom island retreat. Each 5 BR Villa features four king rooms and a cozy room with bunk beds appropriate for children and guests. An idyllic escape, this spacious property is perfect for family vacations, group holidays, business trips, fitness retreats, or a wedding party. Pristine design and optimal location make this fantastic property the perfect choice for the ultimate stylish getaway. Featuring two Beachfront infinity pools and expansive indoor/outdoor living and dining areas, this truly serene beachfront paradise is the perfect choice for any luxury traveller.
Discover all Phuket Beachfront Luxury Villas
Discover all Phuket Seaview Luxury Villas