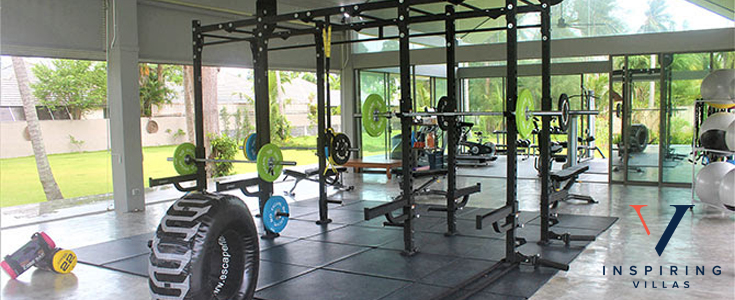 Stay Fit During Your Luxury Vacation
Many people relish the thought of their vacation, being able to relax and step away from their normal working routine. However, as we can all agree, one of the hardest things to do after a break, is ge back into it—especially when it comes to health and fitness, as it doesn't take long to break a habit. This is why more and more people want the opportunity to remain fit during their vacation. To at least have the option to get some cardio done, to justify all the extra cocktails.
Of course, there is absolutely no shame at all, in taking 2-3 weeks out of the year, to lay beside the pool and do absolutely nothing at all. Nobody is going to judge you for kicking back and eating whatever you want, all day, every day. However, if you enjoy your daily exercise and wish to keep it up, then you'll need to find a luxury villa with gym equipment and a sizeable swimming pool. If that is the case for you, then you're in luck; as we here at Inspiring villas, have a grand selection of luxury accommodation with a wealth of health & fitness options to choose from.
But before we get into that, we're going to set the scene by looking at two breath-taking and world-renowned locations—Koh Samui and Phuket—which are home to many of our incredible luxury villas.
Enjoy a Healthy Vacation in Koh Samui or Phuket
Both islands are among the most popular tourist destinations in Thailand, each of which can be accessed directly via airplane. Whilst they are very different, they share a number of important similarities. First, they both boast exceptional natural landscapes, with boundless rolling hills that you can hike through & climb. Second (for those of you who love swimming), they have some of the most exotic beaches in the world with surprisingly warm and charming waters. So, if you would like a relatively active vacation, there's an awful lot of exploration options for you.
Phuket is the larger island of the two islands at 543 km² and has a number of notable landmark locations such as Patong beach, Old town, and the Big Buddha viewing point near Chalong. There are miles and miles of beaches, and some of the most iconic are just a stones-throw away from one of our stunning luxury villas.
Koh Samui is 228.7 km² in size and has no shortage of things to see and do. The bustling town of Chaweng is home to some of the most vibrant nightlife in Southern Thailand, whereas to the North of the island in Bo Put, you can enjoy a leisurely evening relaxing in the world-famous Fisherman's Village.
What's truly amazing about Phuket and Koh Samui, is that both islands have something for everyone. So, if you're heading away with a group of friends and would like to party every night throughout your vacation, then you'll certainly be spoiled for choice. Or, if it's a quiet family holiday that you're after, then you'll find a wide variety of tranquil areas to enjoy some valuable family time together.
Plenty of fresh fruit & healthy food options
What we love most about Thailand, is the cuisine. You can feast every day in Thailand, guilt-free, on some of the most healthy and delicious food in the world. If you're a big lover of seafood, then you'll find no shortage of fresh fish on either island. In addition to that, they have many salads and veg-based dishes such as the mouth-water Papaya Salad (Som Tum) or the succulent Thai Stir-Fried Morning Glory.
Of course, on those cheat-days where you fancy a juicy burger and some French fries, then you can scoff until your heart's content. However, with so many healthy and delicious options, you'll rarely feel the temptation.
Another great thing about Thailand is being able to laze on the beach, with a fresh coconut or some sliced watermelon to snack on. These refreshing treats are peddled by wandering salesmen who will come straight up to you, so you won't even need to get up off your towel. A healthy holiday has never been quite so convenient.
Luxury villas you'll never want to leave
Of course, it's nice to know that both Koh Samui and Phuket have so much to do; however, our villas provide all the luxuries and amenities that you could ever need. In fact, our villas are so luxurious, that you'll likely never want to leave—which is ideal if it's a relaxing holiday that you're after (with a spot of health and fitness thrown into the mix, of course).
We're going to list a few of our choice luxury villas in Koh Samui & luxury villas to rent in Phuket, which we believe are perfect if you would like to remain fit during your vacation. They will feature lavish infinity pools so that you can start your day with a refreshing morning swim to get the blood pumping; they will be stocked with a fitness studio where you can spend half an hour maintaining your fitness regime & working up a sweat, to then wash off in one of the many exotic outdoor rainfall showers. Oh, and what better a way to detoxify your body, than by sweating it out in a sizzling sauna or steam room?
Follow the links below and explore these breath-taking villas so that you can decide which is best suited to your tastes.
Luxury Villas in Phuket with Health & Fitness Facilities
Luxury Villas in Koh Samui with Health & Fitness Facilities
There should be plenty of variety here for you to choose from, however, if you can't find anything that jumps out at you here, please feel free to contact us. These are just a handful of the gorgeous luxury villas that we have available, so we will certainly be able to find the perfect location for you to spend your guilt-free vacation.