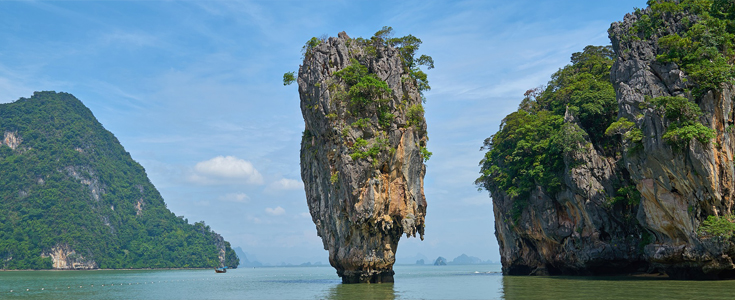 Koh Samui VS Phuket: Which Island is Better and Why
Thailand is among the most luxurious holiday destinations in the world and is visited by a great number of travellers every single year. There is a wealth of glorious beaches, mesmerising snorkelling spots, and an unparalleled level of hospitality. That said; with so many fine choices, how do you decided which Island to choose from?
In this article, we're going to be exploring two of Thailand's most popular islands: Koh Samui, and Phuket.
If you are planning a holiday away in paradise here at Inspiring Villas we offer a fantastic selection of luxury villas in Phuket and luxury villas in Koh Samui, feel free to message us or call us and one of our team of will be happy to help you find your perfect villa.
Both Island's receive millions of foreign and domestic visitors each year. This is why it is so difficult to make a decision as to which is best for you. However, in an attempt to make the decision easier for you, we're going to compare both of these gorgeous locations, exploring a variety of important factors.
Where are they located?
Koh Samui rests peacefully in the Gulf of Thailand to the south and is the third-largest island in Thailand. This gorgeous escape is approximately 700 kilometres south of the kingdom's capital of Bangkok and is 228.7 km² in size. Needless to say, there's plenty of room for activities! In addition to having some of the most renowned party destinations, such as Chaweng and Lamai, the island is littered with quaint and quiet, private beaches on the western coast. And of course, Koh Samui is home to some of the most incredible snorkelling spots within the world-famous Ang Thong National Marine Park.
Phuket is the largest of all the islands in Thailand. In fact, the island is so large, that many people often mistake it for being on the mainland as it can be accessed via a bridge. Phuket rests effortlessly on the Andaman Ocean to the South and is roughly 860 kilometres from Bangkok.
When it comes to location, both Islands have so much beauty to offer, so in that case, either one would be an exceptional choice.
How easy are they to access?
Whilst both Islands have airport access, Phuket is certainly the easiest to reach. This is because Phuket can be reached via bus, train, plane or boat. In fact, pick a mode of transport and you can certainly use it! Koh Samui, on the other hand, can only be accessed by flying (which is more expensive by Thai standards), or via ferry. That said, there are many companies that offer a bus and ferry combo from major cities such as Bangkok, for your convenience.
When it comes to ease of access, Phuket definitely takes the win. However, for those of you who don't mind travelling the extra mile, Koh Samui is almost certainly worth the extra effort. If you're on a budget however, Phuket might be the more sensible option.
How's the weather down there?
Ultimately, the weather in Thailand is gorgeous no matter where you go. However, depending on the time of year, of course, you could be in for a monsoon or two (September to October has the highest average rainfall). That being said, whilst this time experiences high rainfall, there is also plenty of blue sky and sunshine, so you can experience cheaper rates if you don't mind getting caught in the occasional tropical storm. In honesty, it can be rather exciting! The best time to visit Phuket is between November and March, as this is when the weather is driest and most pleasant.
Koh Samui has three distinct seasons which are important to note. The weather is always warm; however, during September and November (the monsoon season), snorkelling is not so great. As such, if you're planning on exploring the coral reef, you'd be best to visit during a different time. Then from December to February, Koh Samui experiences a dry season, and the highest heat is through March and April. For the best weather, you'll be better off going during the peak season of April and October. Of course, this period will be busier and more expensive so it's down to your discretion.
When comparing the two, it really just comes down to timing. You can visit either island at a certain time of year and experience some of the most glorious and breath-taking weather, so you can't really lose!
Which Island is more expensive?
As previously mentioned, reaching Phuket is less expensive, however, when it comes to costs, both islands are very similarly priced. There are more luxury shopping malls and nightclubs on the island of Phuket, though provided that you budget accordingly and spend within your means, you should be able to enjoy both islands equally at a similar expense.
Which Island has the best beaches?
Trying to define which island has the best beaches, is like being asked to choose a favourite between two delicious dishes that you love equally for different reasons. It really depends on your tastes and the specific experience that you're looking for. For example: if you want to really embrace the luxury island escape, with colourful snorkelling in a tropical setting then Koh Samui might be your favoured choice. That said, some areas of Koh Samui experience a significant amount of congestion, so you'll have to travel further afield to find the quieter spots.
Phuket, on the other hand, offers more in the way of entertainment by the shore. You'll find a wide range of pubs and restaurants on the beach and a wealth of sunset massage experiences. In Patong, the beaches tend not to be as enticing as some of the quieter areas of the island. Again, it all comes down to what you're looking for!
What is there to do?
To be perfectly honest, the only difference between the two islands is that Phuket is larger and has more to choose from. However, both islands have a gorgeous cultural tapestry to explore, classic tropical spa and relaxation options, plenty of invigorating water sports, mouth-weathering cuisine, exceptional shopping and…well, the list goes on. Simply put, you'll have a hard time being bored on either island and they're both perfect for families, couples, groups of friends, and singles alike.
Which Island has the best food?
It's so difficult to choose a favourite when both Island's have so many exceptional cuisine options to choose from. Certainly, there is more choice in Phuket as the Island is larger, however, the variety on either Island will render you satisfied, having had your fill. Whether it's the local cuisine for which Thailand is world-renowned, freshly caught seafood or some western comforts, you'll find absolutely everything that you could possibly want on both Koh Samui and Phuket.
Our Conclusion
So, which Island is best? I think we will have to leave that decision to you because, with so many wonderful qualities, it's difficult for us to select a clear favourite. It all comes down to personal preference. If there's a certain time of year that you can travel, or if you're working to a specific budget, then that will have an effect on which Island would be more suitable to you. Though in terms of selecting a superior Island, it simply can't be done. Our conclusion: they're both incredible islands with so much to see, do, taste, and try! Weigh up the various pros and cons and turn your eyes toward whichever Island makes the most sense to you. In any case, we wish you the safest and most pleasant journey.