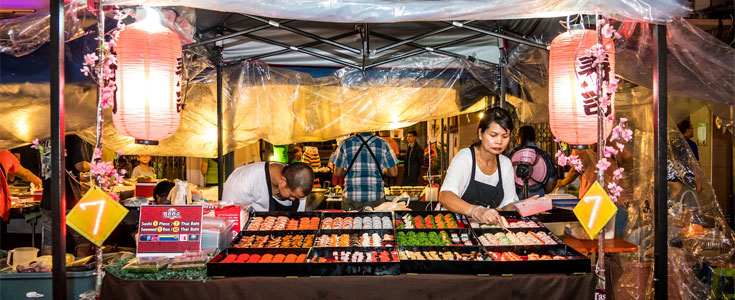 5 Must Try Street Foods in Thailand
Thailand…the land of smiles! Legend has it that they got that name for their friendly nature and incredible hospitality, but we believe that it's because it is almost impossible to eat Thai Street-Food without smiling! Truly, Thai food is world-renowned for being irrefutably delicious, but on the streets of Bangkok, we're talking next-level tasty.
But why is it so good? What is it about Thai street-food that makes it stand out from the rest? Well, we have a theory. What you will find when exploring the streets of Bangkok, is that each food stall will typically specialise in one dish (with perhaps two or three variations in some cases). Imagine cooking one dish, all day, every day, for 20 years! It's safe to say that you'll have just about mastered your craft.
The same rings true for many of these street stalls. They're manned by passionate and experienced chefs who excel in their one chosen dish, thus rendering their culinary creations exceptional.
So, if you want to experience the true taste of Thailand, then you'll need to take to the streets of Bangkok, park a pew on a plastic stool, and indulge in some of the finest food that you'll ever have the great fortune of trying!
In this blog post, we're going to take you through our 5 must-try street-foods in Thailand. You should know that there is a seemingly boundless variety of food to try in Thailand so if none of the following sound especially appealing to you, don't lose heart! There is quite literally something for everyone (that, and there's always McDonalds if you're missing home).
1 – Pad Thai (Fried Noodles)
Pad Thai is certainly the most famous dish in Thailand and is known around the world as a flavourful noodle dish prepared with crunchy bean sprouts, onion, tofu, fried egg, and then served with fish sauce, sugar, sliced lemon, chilli powder, and ground peanuts.
While that might sound like a mishmash of ingredients to you, rest assured that it's a carefully constructed recipe, perfected over generations, to form what is arguably one of the most delectable dishes in the world.
The most popular variation of Pad Thai is with shrimp. For dried shrimp you can request Aow Pad Thai Goong Heng, or for the bigger shrimp (if you want to do it properly that is), then you'll ask for Aow Pad Thai Goong Sod.
2 – Som Tam (Papaya Salad)
Som Tam is quite an acquired taste, but fortunately, there is a grand variety of serving styles to choose from. Som Tam Thai, for example, is the most common variety. However, if you favour traditional Issan dishes, then Som Tam Bpoo Pla Ra (which has extra fermented fish sauce) may be more your speed.
Som Tam tends to be eaten with grilled chicken, so you will notice many vendors selling them together. However, it is equally delicious as a stand-alone dish.
It is also especially important to note that Som Tam is typically incredibly spicy, so if you don't want it "Thai Style", then ask for it to be less spicy. Of course, if you have an adventurous palate and you don't mind having watery eyes, a runny nose, and a mouthful of fire, then we say go for it! When in Rome!
The flavour profile for Som Tam is sweet, citrusy, salty, and spicy. If you're new to Thai food, then you might find the flavours a little strange of overpowering at first. However, if you're patient and adventurous with your appetites, this could easily take the top spot as being one of your favourite dishes!
Pro Tip – Request Your Spice Level in Thai
Ped Mak Maak (Very spicy)
Ped Nit Noi (Only a little spicy)
Mai Ped / Mai Aw (No spice at all)
3 – Guay Teow (Noodle Soup)
At first, noodle soup sounds rather bland but when you order it in Thailand, it's a different experience entirely. Not only is noodle soup one of the most customisable dishes there is, but it's a dish that the Thai people have almost certainly mastered!
You'll notice Guay Teow to be quite a common and easy street food item; the base is noodles, but everything else can very. You can choose from a variety of noodle types, including a thick, aromatic stock, with meat, wontons, or veggies. In addition to that, you'll find each table is stocked with an assortment of condiments for your further customisation (chilli, lime juice, sugar, fish sauce). Not spicy enough for you? Heap some chilli powder into the mix with some pickled chillies and peanuts for additional texture.
4 – Khao Pad (Fried Rice)
Again, fried rice is another dish that might not sound especially appetising. After all, how special can fried rice be? Surely, it's more or less the same everywhere?
Wrong!
Fried rice in Thailand is like nowhere else on earth. It is so irrefutably delicious and is available with a variety of different meats or additional veggies (and there's always so much of it).
Not only is fried rice in Thailand exceptionally tasty, but it's also a safe bet for those of you who aren't especially adventurous when it comes to foreign foods. That, and if you have a bit of a bad belly, or you're just really hungry and need a quick bite to eat, an easy fried rice dish is always a great option!
5 – Gaeng Kiew Wan Gai (Thai Green Curry)
Curry lovers rejoice, the Thai Green Curry is an absolute must-try! This internationally popular dish is an amazing creation that appeals to even the fussiest of eaters. Of course, in Thailand, it does tend to be extremely spicy, so when ordering from a street-stall, be certain to state otherwise if you're not so good with spicy food.
Thai Green Curry is a coconut milk-based creation with a vibrant hue that is derived from the green chillies, green peppers, coriander, kaffir lime leaves, and basil that make up this spectacular dish. The end result is a flavourful delight that is traditionally served on a bed of steamed rice.
There are several variations of this dish including Yellow and Red curries. The former yellow dish has a balance of turmeric and yellow chillies, whereas the latter red dish is made up of red chillies. You must be mindful of your spice'ometer when choosing which colour, you'd like to go for—green tends to be the mildest.
Bonus Dish – Khao Man Gai (Steamed Chicken and Rice)
While Khao Man Gai looks plain on the eye, it is genuinely packed with flavour. This is what I would call comfort food for the soul! The chicken is poached with sugar and spices and is then stripped and served on a bed of steamed rice. Following that, a delicious sauce made up of ginger, garlic, Thai chillies, cilantro roots, soy sauce, white vinegar, sugar, and chicken broth, is lathered on top, while accompanied by a cucumber garnish.
Conclusion
Again, these are a mere handful of the dishes that are available from Thai street-food vendors. Explore at your leisure and allow your taste buds to run rampant! But more importantly, prepare yourself for a taste sensation!