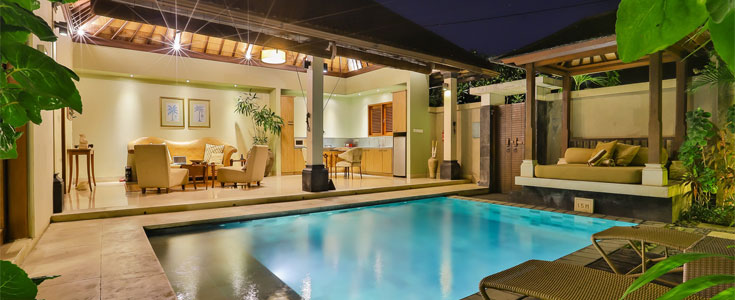 Recommended Villas For Groups and Large Families
When visiting a country as naturally stunning as Thailand, it's only proper that you stay in accommodation that complements the glorious weather and bountiful displays of organic wonder. With the rolling emerald hills of Phuket, and the endless appeal of the Andaman Ocean that lay astern, there's no finer way of appreciating its majesty, than lazily lounging on the edge of your private infinity pool with an ice-cold Singha or freshly squeezed Mango smoothie.
Sounds incredible, doesn't it? Now imagine that, with all of your favourite people! Sure, it would be wonderful to be in a position to rent a luxury villa all by yourself, but not all of us can justify spending that kind of money. However, if you can gather 4 to 9 of your friends who are up for an adventure in paradise, then that daydream can very much become an affordable reality!
In this post, we're going to look at a variety of stunning villas of all sizes, from 4&5 bedrooms, 6&8, and 7&9. So, whether there's a small group of friends, your close family, or an entire unit of you looking to have the time of your lives, there'll be something for everyone!
You'll have to bear with us, as naturally all of the villas that we're about to share with you are going to be absolutely glorious. They're going to boast the most incredible views, with all of the amenities that one could ask for, and we appreciate that that can come across as being rather biased. But the fact is…they each truly are spectacular in their own right. The only difference is that they have their own unique design and layout and are suitable to accommodate groups of varying sizes. So, depending on how many people you'd like to join you on your special vacation, and which style grabs your attention the most, you really can't go wrong!
Click to browse - Large Group Luxury Villas Thailand
Click to browse - Large Group Luxury Villas Phuket
Click to browse - Large Group Luxury Villas Koh Samui
Villa Yang, Kamala 4 Bed
Villa Yang soars high above the sea on its own private cliff in Kamala and is a four-bedroom, three-level architectural masterpiece. Whilst it's slightly smaller than Villa Yin, accommodating one less, what it lacks in size it makes up for with an irrefutable air of prestige. If you and a core group of your friends would like to jet off to paradise to enjoy a 15-metre infinity pool overlooking the ocean, with your very own private chef onsite to spoil you with the most tantalising gourmet meals, then this space is almost certainly for you!
Villa Suriyan, Layan 8 Bed
This villa features spacious and furnished living areas with dining, both indoor and outdoor; a European kitchen, Gym, 8 stylish en-suite bedrooms and three (that's right, THREE!) swimming pools, electric gate and undercover parking, need we go on? OK, sure, why not! With panoramic views of the Andaman ocean, this spot is the perfect location for large groups looking to have a truly memorable vacation in one of the most stunning and sought-after locations in the world.
Villa Suriyan has simply so much space, and with so many amenities inside, you'll never need to leave. That said, it's in a prime location, so you'll never be short of things to see and do, should you get itchy feet and want to do some exploring!
Villa Napalai, Layan 6 Bed
Villa Napalai is a lavishly furnished luxury pool villa in Layan, Phuket with the most breath-taking views over the tropical jungle towards the utterly inviting Andaman Sea. You will find nothing but the most relaxing and peaceful getaway for couples and families. This accommodation offers 6 en-suite bedrooms, though due to its size can easily accommodate 10 people with spacious open plan living and dining areas. So, if you want to invite some close family friends along for the journey, then you can certainly do so.
You've got a pool bar, BBQ area, wine fridge, undercover parking, a cloakroom, an infinity edge pool and so much more! Again, you won't need to leave as you've got everything you need right here. That said, you're only a few minutes away from the beach, so you'll be sure to want to make some time during the day for a spot of sunbathing in the sand, followed by lunch in one of the many fantastic local restaurants.
Villa Thousand Hills, Nai 9 Bed
Villa Thousand Hills is a luxurious 9-bedroom sea view property just beside its own private, idyllic calm water beach. This brand-new modern villa offers all the amenities you could ask for and is without a doubt, the perfect getaway for your Villa holiday. The flowing living spaces all face towards the ocean, boasting floor to ceiling glass, balconies and the forever Andaman sea horizon in front of you.
This fascinating space offers a truly unique experience, being 50m above sea level, it offers some mesmerising panoramic views. That, and with a short journey down to your private beach, you'll be certain to want to stay in this space forever. If there's a big group of your friends, then make sure that you book this incredible space so that you can share a holiday of a lifetime!
Villa Thousand Cliffs, Nai 7 Bed
Villa Thousand Cliffs is perched just above the water in its own secluded private bay in Nai Harn. This is an incredible 7-bedroom luxury beachfront villa, with all internal spaces being oversized with high ceilings and glass frontage overlooking the large infinity pool and the sea in front. The 6 master en-suite bedrooms, plus an additional kids' room are each perfectly appointed with comfort, luxury and panoramic views all around. This space is absolutely perfect for bigger families with small children or groups of friends who may have a couple of kiddies attending! We guarantee that you'll absolutely fall in love with this space and will cherish the memories made forever.
Conclusion
We could harp on all day about how wonderful our villas are. The fact is, we don't list or promote anything unless we are entirely satisfied with the quality of the build and know full-well that our valued clients will have the time of their lives.
Why not explore each of the villas by clicking through to the relevant pages? There you will be able to explore the pricing depending on what time of year you'd like to book, marvel over the wonderful pictures provided, and gather more notes so that you can make an informed decision as to which luxury villa is the perfect one for you.
If you can't see what you're looking for then don't worry! We have so many other glorious properties for you to choose from, so please do not hesitate to contact us today and we'll gladly point you in the right direction. Go on…you deserve a little paradise, and at Inspiring Villas, we deal in exactly that.