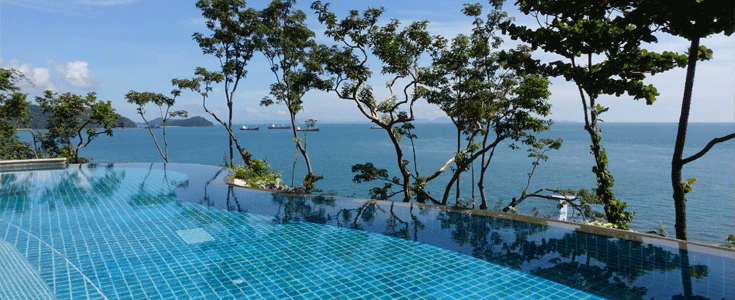 Glorious Water Features You Will Find in Luxury Villas
Of course, the main thing that makes a luxury villa truly luxurious is the implementation of water features—It's the perfect way of enhancing an environment, promoting fluidity and creating a truly peaceful aura. Simply put, no luxury villa is complete without a water feature or two.
In this article, we're going to talk about the 8 water features that you'll be most likely to discover in a luxury villa, and why they're so important. When looking for a luxury villa to rent or buy, you must ensure that it features at least a few of these, otherwise…it really won't be so luxurious after all.
1 – The Swimming Pool
When we think of luxury, lazing around in a gorgeous swimming pool is definitely at the top of the list. In fact, a villa without a swimming pool is almost certainly, not worthy of the title "luxurious." You can enjoy the boundless indulgence of an infinity pool overlooking the ocean, or some gorgeous tiles that complete a most refreshing and inviting aesthetic. In any case, so long as there's a place to enjoy a nice dip, you can truly immerse yourself in that luxury feeling.
On a side note, most modern luxury villas will be mindful of child safety, and as such, there will be a child-friendly area with the appropriate depth.
2 – The Bathtub
Sure, when staying in a hot country, often a cool shower is enough. However, the truly classy bathrooms will feature a gorgeous bathtub for you to sink into of any evening. The most luxurious of all bathrooms, will feature an ocean view where you can enjoy a long bath with a glass of wine, whilst admiring the marvels of mother nature.
3 – The Rainshower
What truly sets a bathroom apart, is whether or not it features a rainfall shower. The very best villas will have a rainfall shower outside, and with one in every bathroom. These offer a completely immersive experience, allowing you to lose yourself in a refreshing shower that provides the sensation of being stood underneath a waterfall in the rainforest. Perfect for washing off the day's dirt after a long trek through the hills or a relaxing trip to the beach.
4 – The Jacuzzi
The Jacuzzi is simply a must have when it comes to luxury villas. Anyone staying in a villa is going to want a jacuzzi, especially if they want to embrace that feeling of high-class living. That, and there are a number of ways to experience them! If you're travelling as a group, a jacuzzi session can be a great way of socialising and having a drink and a chat. However, for couples that are looking for a little more personal time…where better a place than a seductive, soothing, and intimate hot tub with stunning outdoor views? Bliss!
5 – The Steam Room / Sauna
Whilst you won't necessarily find a steam room or sauna in every luxury villa, it is a feature that truly breathes an irrefutable air of "high-class quality". If you want to indulge in the most extravagant of relaxation activities, then the steam room and sauna can offer you exactly that. The best thing about it is that you can control the temperature and humidity, and you don't have to share it with anyone! This means that you can relax and rejuvenate in peace, whilst sweating out all of the toxins in your body. Wow…
6 – Koi Fishpond
Again, not every luxury villa is going to boast a Koi fishpond, but for those who are seeking a truly "zen vibe", then they should seek out one which do. For the ultimate sense of calm and tranquillity, there really is no finer feeling than sitting beside a Koi fishpond and reading a book, whilst casually pausing to gaze at the Koi as they bob around peacefully. You can even find Koi fishpond's which have been fused with other features such as fountains and cascades, as we'll cover in a moment.
7 – Cascades
More often than not, you'll find a cascade feature coupled with a swimming pool. This feature serves a number of functions, including decoration and relaxation. The fact is, there is nothing quite so soothing as the sound of water trickling over rock, particularly if you're in the need of something to calm your mood. Some modern villas will have cascade features indoors, serving as a partition between living areas, offering a sharp and irrefutably luxurious design.
8 – The Water Fountain
In many culture's, the water fountain is a symbol of wealth and property, particularly in the middle east where water in countries that neighbour grand deserts is (figuratively speaking) worth more than gold. As such, only the most luxurious of villas will have such wonderful and alluring features. It's a wonderful decoration that is easy on the eyes, soothing to the ears, and simply a pleasure to behold.
Conclusion
When thinking about Feng-Shui (a practice that all luxury villas must be built upon), you have to incorporate the five elements: wood, fire, earth, metal, and water. This is why it is so important that you have water features in a luxury villa; to promote fluidity and peace of mind. Find yourself a villa with any number of these, and it will be sure to take your breath away!