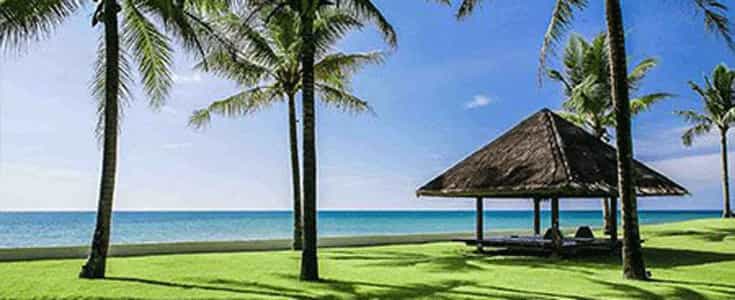 Phuket Tropical Island Paradise
Phuket has long been established as Thailand's finest tropical island paradise. The Pearl of the Andaman Sea, as Phuket is known, boasts an international airport that connects it, not only to Bangkok, but also to many other national and international destinations. This makes Phuket very accessible to both local and international tourists.
All the features normally associated with a tropical island are evident in Phuket. There are palm fringed, coral ringed, sandy beaches, cobalt and azure seas and lush, tree and vegetation clad hills that often provide a spectacular and contrasting backdrop.
Phuket offers something for everyone. Nature lovers can still find relatively secluded beaches, trek through jungle and forest to view waterfalls, and wait and watch for turtles coming ashore to lay their eggs in the sands of the National Park.
Sun worshippers will find an abundance of beautiful, sandy beaches that are lapped by the warm waters of the Andaman Sea. As an alternative to the beach, there are many luxury hotels with sumptuous swimming pools and sunbathing areas. Additional accommodation is also available in the form of luxury private pool villas. These are perfect for those requiring privacy and seclusion. Many hotels also offer spa facilities that are designed to soothe away the stresses of modern life.
Thrill seekers can participate in bungee jumping and go-karting. For those in pursuit of slightly less dangerous, but equally thrilling activities, there is elephant trekking, or canoeing through the limestone islands and caves of the nearby Phang Na Bay.
If its entertainment you are looking for, there is the world famous Simon Cabaret, or the Fantasea theme park. The bigger resorts, such as Patong, Karon and Kata, offer a rich and varied nightlife. Of course, Thailand is famous for its food, and some of the best restaurants in the kingdom can be found on Phuket. They serve a wealth of international cuisines, as well as some of the finest Royal Thai dishes. Seafood is a particular speciality of the island.
Sports are extremely well represented on the island. There is particularly fine fishing, diving, sailing and golf. Phuket is also blessed with several marinas for visiting yachtsmen, and a number of world renowned golf courses provide challenges to the most serious of golfers.
Phuket has become a holiday Mecca for everyone. It is a tropical island paradise for young, old, rich, famous, singles and families. Whatever you look for in a vacation, you are sure to find it in Phuket.