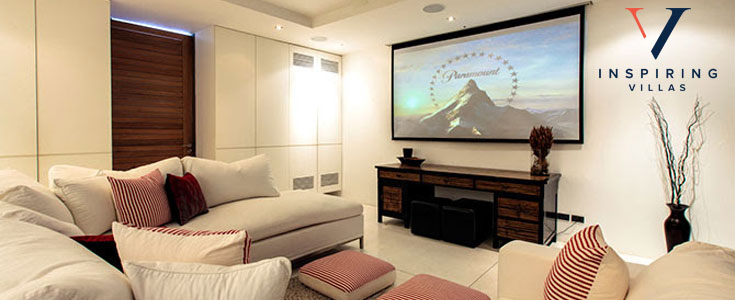 Our Choice Luxury Villas with Home Cinema Room
In this post, we're going to list our top 5 picks for luxury villas with home cinemas in Koh Samui and Phuket. Now, this might seem rather unorthodox, as who would want to go all the way to Thailand just to sit inside of an evening to binge watch some movies or TV shows, when you can do that at home? Well, you'd be surprised! Because the fact is, these stunning villas have some of the most incredible home cinemas with huge projectors and surround sound systems that offer the most immersive and exciting viewing experience. Consider it a huge bonus on top of all the other fascinating luxury amenities that our fine accommodation has to offer. You don't have to spend every evening watching movies, but if you fancy getting cuddled up on the sofa one evening, then you'll be able to do so in a stylish and state-of-the-art fashion.
It's important to have plenty of choice when you're away on vacation, and what's truly great about our luxury villas, is that they have everything that you could ever want and need, rolled up into one, conveniently comfortable property. If you'd like, you could spend your entire vacation without ever needing to set foot outside of the grounds.
Keep the kids entertained
Many of these villas are large enough to accommodate several families, so if you and your close friends are going away with a group of children, then you'll need to keep them entertained. There aren't many children who will want to sit around of an evening whilst the adults get tipsy on lavish cocktails and talk 'boring adult stuff' until the early hours of the morning. Instead, you can send the kids off into their own private cinema to watch their favourite movies! After they've spent the entire day at the beach, or splashing around in the infinity pool, or playing ping-pong for hours on end, you can guarantee that they'll be out for the count come evening time.
Catch up on some much-needed television binging
The great thing about certain streaming services like Netflix and Prime is being able to binge your TV shows in one go—but who really has the time for that? If you're career-driven with a family to support, then how often do you get to kick back, relax, and watch what you want to watch? We'd wager, not very often.
So, why shouldn't you indulge in a much needed, guilt-free television binge session whilst you're on holiday? And besides,, who is going to know? The whole point in taking a vacation is to do as little or as much of what you want to do.
You can spend the days lazing in your infinity pool, gazing out over the boundless blue horizon; getting plenty of exercise in your private fitness room, or go kayaking on your quiet corner of the island. There will also be an overwhelming selection of exploration options for you, should you want to get the most out of your vacation. There are hundreds of gorgeous temples to explore, a rich cultural tapestry to immerse yourself in, and more glorious waterfalls than you can count. But who says that you have to be out amongst it every evening? Why shouldn't you enjoy a private BBQ on your terrace, followed by 5-straight episodes of 'You'? The choice is yours.
Here are our top 5 picks for Phuket and Koh Samui; simply follow the links for more information on each.
Our top 5 villas with home cinemas in Phuket
Bluesiam
Bluesiam sits on a hill overlooking the awe-inspiring region of Surin. This villa offers complete privacy, with only a short walk to the beach. It has an impressive home cinema with a large projector screen and even your very own private wine cellar to boot!
Villa Aye
Villa Aye offers the ultimate getaway experience with expansive tropical grounds and a stunning swimming pool terrace. There's a pool table, a swim-up bar, a yoga & fitness studio, and of course, a large projector home cinema setup.
Villa Chan Grajang
Villa Chan Grajang nests on the Westerly coast of Phuket, boasting panoramic sea views and generous living space. It has all of the amenities that you could need, including an immersive entertainment area with a state-of-the-art cinema projector setup.
Villa Solaris
Villa Solaris is a stunning luxury villa in the heart of Kamala, Phuket. With 3 swimming pools, a private gym, massage room, BBQ area and a sizeable home cinema, you'll never be short of things to keep you entertained throughout the duration of your vacation.
Baan Amandeha
Villa Baan Ameandeha is the ultimate luxurious tropical estate that is ideal for large groups and families who are after their own slice of paradise. If the infinity pool, the swim-up bar, pool table, spa area and jacuzzi aren't enough to keep you entertained, then the 4m cinema screen almost certainly will!
Our top 5 villas with home cinemas in Koh Samui
Baan Kilee
Baan Kilee is a massive beachfront villa on the Western coast of the world-renowned island of Koh Samui. This tropical sanctuary is perfect for large groups of friends and families, featuring a large infinity pool overlooking the beach, an outdoor games area complete with ping pong table, a poolside BBQ and a mesmerising outdoor cinema.
The View
The View gets its name from expansive and breath-taking views that can be shared from this gorgeous cliffside estate. If the delightful outdoor beachside cinema isn't enough to pique your interest, then surely a salt-water infinity pool, and poolside barbecue just might. This lovely Villa anticipates every need and is drenched in the natural beauty of Thailand's favourite island paradise.
Villa Skyfall
Villa Skyfall is one of our newest luxury villas and boasts some of the most charming views over the neighbouring island of Koh Phangnan. This spot is ideal for large groups and entertaining guests. There is a luxurious indoor movie theatre, an indoor lounge bar with a pool table, and an outdoor pool bar, for your convenience and enjoyment.
Sangsuri Villa 3
Sangsuri Villa 3 is a magnificent luxury villa that is only 10 minutes away from the bustling town of Chaweng—making it the ideal choice for a large group of friends who are looking for a vibrant vacation to remember. Its many features include a spacious private indoor cinema with projector, an estate gym, stylish jacuzzi tubs and oversized rain showers and a fantastic poolside BBQ.
Samujana Villa 12
Samujana Vila 12 will be live on our website soon, but we didn't want to wait before mentioning this sensational spot! If you'd like some more information on this exclusive luxury villa, then contact us today and we will gladly divulge everything that you need to know.
Can't find anything you like?
We hope that you are intrigued by the choice picks that we have listed here. If you're after an immersive vacation with plenty of things to see and do, then these luxury villas should have absolutely everything that you'll need to stay entertained. However, if you don't see anything that you like then don't panic, as we have a wide variety of incredible accommodation to suit everyone's tastes. Simply contact us today and we'll see if we can find the perfect villa for you and yours.