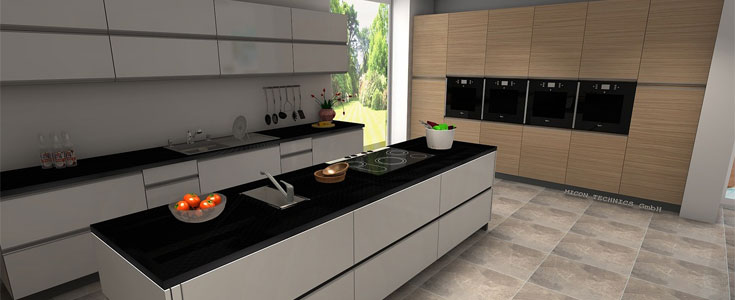 In House Chef Kitchen And Cuisine In Our Luxury Villas
What does luxury mean to you, besides great comfort and extravagant living? To us, it's the catalyst in an awe-inspiring event, uniting the senses and reminding you of just how beautiful life can be—the event of course, being your tropical vacation in a luxurious villa in Thailand.
And whilst all five basic human senses are equally vital in this process, the focus of this article is going to be on (you guessed it), taste. Because if we're being honest, rarely do we consider taste when looking at luxury villas in Koh Samui or Phuket. You don't scroll through the pictures and think to yourself: "Oh, I bet that tastes delicious."
Instead, you might imagine feeling the warmth of the tropical sun enveloping you through the afternoon, followed by the cool, tingling sensation as you guide your sun-kissed body through the inviting blue of the infinity pool. Or the reassuring sound of the ocean breeze gently animating the blanket of green around you, and what that might smell like. Not to mention the somewhat familiar sound of silence, do you remember? Not complete silence, of course…simply, silence coloured in. The exotic birds singing in the distance, and the rhythmic swell of the Andaman Sea sloshing against the beach below. No phones, no honking horns, no wailing sirens, no boss breathing down your neck, and no boisterous commuters spoiling your day before it's even begun. Only peace, and quiet.
But don't forget, this is Thailand we are talking about. A fascinating country with a rich cultural tapestry that is renowned the world over for its unparalleled cuisine. Which is precisely why we believe that 'taste' deserves a little more recognition when it comes to our luxury villas in Phuket & Koh Samui.
Modern, state-of-the-art, and fully equipped kitchens
There are many incredible selling points to staying in one of our luxury villas in Koh Samui & Phuket, but we won't get into that today. Instead, let's talk about the modern, state-of-the-art, and fully equipped kitchens that they each boast.
Certainly, you will be a short drive away from some of the finest local eateries and restaurants on the island, so if you fancy eating out, then that is your prerogative. However, should you choose to remain in the sanctuary of your private paradise, then you'll have all the facilities required to dine in style at home, for your convenience. And the best part is? You won't even have to lift a finger!
Your very own private chef / culinary wizard
Most of our luxury villas come with their very own in-house staff, including a private chef. This isn't the case for all of them, however that's not to say that one cannot be arranged should you fall in love with a specific villa that doesn't have a private chef included, so don't panic.
What this means, is that for the duration of your stay in your chosen luxury villa, you won't have to set foot in the kitchen. Of course, if you quite enjoy cooking and would like to experience the pleasure of preparing Thai cuisine in a magnificent kitchen, then, go right ahead.
However, if you much prefer the idea of having an award-winning chef with significant experience and a mind-blowing flare for culinary wizardry, whip you up breakfast, lunch, and dinner every day instead, then that's OK too.
And by the way, you're not only limited to Thai food. We understand that as delicious and desirable as it is to many people around the world, we are all vastly different. Thus, whatever it is that you fancy, or your personal taste dictates, your private chef will surely be able to prepare it for you. Which is especially handy if you are travelling as a family with small children who are perhaps not so adventurous with their eating, or if you or a fellow guest has any specific dietary requirements and/or preferences (e.g., Vegan, Vegetarian, or Gluten-free).
The finest, freshest, and most delicious ingredients
We cannot over-state the diversity and flexibility of our chefs. Don't make the mistake of staying in one of our luxury villas with a private chef and taking full advantage of their knowledge and expertise. If you fancy something specific, simply ask for it! Naturally, there will be some ingredients that will be unobtainable, especially depending on the season and nationality of the ingredient in question. However, that aside, your options are (more or less) boundless. If you wanted, you could have something entirely different for breakfast, lunch, and dinner, every single day. It's entirely up to you.
Our chefs are incredibly passionate about what they do. To a true master chef, there is nothing quite so rewarding, as preparing an immaculate meal for a VIP guest. Therefore, they will gladly head out every morning as part of their daily routine to source the finest, freshest and most delicious ingredients, especially for you.
Knowing all the hot-spots and having developed close working relationships with local farmers, butchers and fishmongers, our chefs can provide you with the first catch of the day, and the prize vegetables, and cuts of meat. Following that, having collected all of the ingredients required to meet your menu requests, they will get to work on preparing you—what might arguably be—some of the finest food that you will ever have the pleasure of experiencing.
Certainly, these may seem like rather bold and elaborate claims, however, this is something that we take very seriously. At Inspiring Villas, we do not deal in sub-standard; we deal in unparalleled luxury, which is reflected in every aspect of our accommodation.
Conclusion
Have we piqued your interest? We sincerely hope so! If that is the case and you'd like to explore this further, then please feel free to browse through some of the links provided below for our choice luxury villas for kitchen and cuisine in Koh Samui & Phuket (in no particular order).
In addition to having state of the art kitchen facilities, many of these villas have stunning outdoor dining areas for those Al Fresco feels! And of course, whenever the occasion calls for a BBQ (which is always), you can send your chef out to procure the finest meats and then fire 'em up.
Should you have any questions for us, or would like more information regarding reservations, please do not hesitate to contact us at your convenience. We thoroughly look forward to hearing from you.