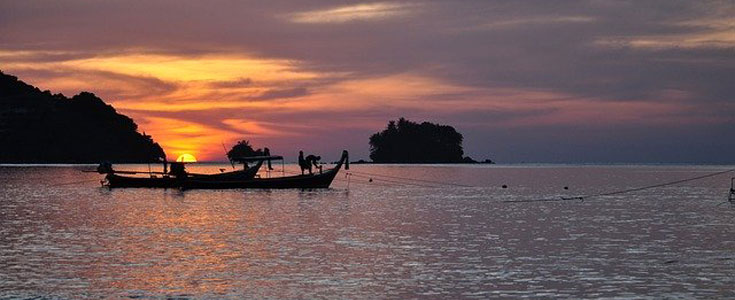 Things to Do in Phuket
Phuket is arguably one of the most beautiful destinations in Thailand, with so much to see and do—which can be attributed to the fact that it is the largest island. Located to the South-West of Thailand, Phuket has a number of fine beaches which lay astern the Andaman Sea. If you're looking for luxury villas in Phuket for your vacation in a tropical paradise coupled with plenty of day trips & excursions, then read on.
In this article, we're going to list a number of exciting landmarks and destinations for you to explore, and which of our luxury villas are in close proximity. That way, you will be able to make an informed decision as to which villa you would like to stay in, based on the in-house facilities provided by the villa itself, and the surrounding amenities that you will be able to take full advantage of without having to venture too far.
Café Del Mar Beach Club
You might recognise the name Café Del Mar, as being one of Ibiza's most iconic venues, and the producers of some of the hottest chillout compilations. Now, they have an exclusive new beach club in Phuket, which has been expertly optimised to provide guests with the ultimate escape. A-list DJ's, tantalising culinary delights, and a very tempting drinks menu should be enough to pique your interest.
Catch Beach Club
Since 2008, Catch Beach Club has been providing the perfect solution to relaxation in the Bangtao Beach area. This oceanfront beach club has a couple of gorgeous bars, an open-air restaurant for alfresco dining, and a large and luxurious infinity swimming pool. Sunbeds, loungers, massages, parties and all manner of exciting events can be discovered at this exclusive luxury beach club.
Flying Hanuman
Flying Hanuman is Thailand's most famous zipline trail! Fly through the jungle in style in a safe, secure, and yet utterly thrilling aerial adventure.
Tiger Kingdom
Ever dreamed of cuddling a baby tiger cub? Or having your photo stood near a large, adult tiger? Well, at Tiger Kingdom you can do exactly that. In this sanctuary, the tigers are kept in perfect health. In addition to that, the Tiger Kingdom is a part of the Conservation Community and contribute to the Plant a Tree Today foundation.
Red Mountain Gold Club
The Red Mountain Golf Club is one of the largest, finest, and most sought-after golf courses in all of Thailand. It was built on a former tin mine site, with leftover scars and fascinating scenery which really adds to the experience. Additionally, they won the 'Platinum Golf Course of the Year' award in 2011, which stands testament to the quality of this course.
Our Nearby Luxury Villas
If you like the sound of these awesome spots, then why don't you check out these nearby luxury villas of ours?
Blue Tree Water Park
Blue Tree offers one of the most amazing days out that you will experience in Phuket, especially if you have children. A large pool lagoon with an abundance of exciting slides, a treehouse beach lounge & restaurant, and so much more—the perfect day out for the family.
Phuket Elephant Sanctuary
Phuket Elephant Sanctuary is proud to have been the first ethical elephant sanctuary, serving as a sanctuary for retired working elephants. Over 30 acres of lush tropical jungle, these gorgeous giants are able to roam free and immerse themselves in nature once more. Drop by and see them in all of their majesty for an unforgettable day trip.
Laguna Golf Phuket
Laguna Phuket is an 18-hole, par-71 golf course, with scenic lagoons, charming coconut groves, and is arguably of a world-class standard. Whether you're an avid golfer or a complete newbie, you will thoroughly enjoy this course.
Porto De Phuket
For those of you who love shopping, Porto De Phuket offers the finest open-air lifestyle retail experience, boasting a wealth of world-renowned brands and restaurants. Natural elements and earthy vibes lend themselves to this unique and relaxing shopping experience.
Our Nearby Luxury Villas
Like what you read? Well, perhaps you'll fall in love with one of these incredible luxury villas that are relatively close to these attractions.
Three Monkeys Restaurant
Three Monkeys is a world-renowned restaurant in Phuket, boasting some of the most gorgeous scenery on the island. You can feel the cool jungle breeze under a palm frond canopy as you enjoy some of the finest cuisine. You can indulge in their signature Thai & Japanese dishes, with a splash of Western food to boot.
Hanuman World Phuket
Hanuman World is another of Phuket's great jungle zipline adventures, with a breath-taking rainforest skywalk where you can traverse the treetops across skybridges whilst basking in all of nature's glory.
Big Buddha Statue
The glorious marble Buddha statue stands 45 meters tall and is an absolute marvel to behold. If you are a lover of Thai and Buddhist culture, then this location is an absolute must-see!
Kan Eang Pier
Kan Eang is one of the oldest restaurants in Phuket and serves what is arguably the most delicious seafood in all of Thailand. Enjoy a tantalising culinary experience in a scenic sea-view setting with premium quality hospitality. The staff at this restaurant pride themselves in going above and beyond and delivering an exceptional service for their valued guests.
Our Nearby Luxury Villas
The only thing that can make these incredible attractions even better, is by staying in one of our nearby luxury villas.
Conclusion
As you can see, there is certainly no shortage of things to see and do in Phuket. Whilst you will have everything you need in your luxury villa to accommodate you; we would wholeheartedly recommend heading out now and again for a little taste of adventure and exploration. Certainly, you should spend much of your time lazing beside your infinity pool, but there is simply too much beauty in Phuket to go to waste, so get out there and make the most of it.
If you would like any further information on what to see and do in Phuket when you arrive, please do not hesitate to contact us. For our valued guests, we offer an expert concierge service and will be able to find the perfect day-trips and nights out to enjoy with you and yours.