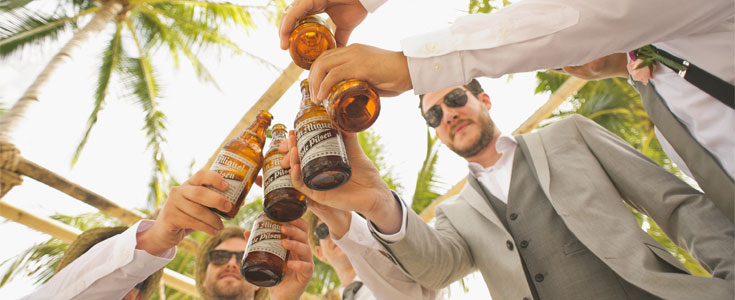 The Ultimate Bachelor Party in Paradise
Gentlemen, are you looking for the ultimate bachelor party in paradise? We may just be able to help you with that. We have put together a selection of choice Phuket luxury villas which are arguably the perfect candidates to host the bachelor vacation, offering everything that you could ever want or need. But first, let's identify what constitutes a great bachelor party.
What is a bachelor party?
A bachelor party, also commonly referred to as a Buck or Stag, is a party given to a man who is about to get married, and one that is traditionally attended by men only. These will be the groom's closest friends, family members, and the male in-laws-to-be.
Traditionally, the bachelor party consists of getting together, dressing the groom up in a silly costume, and giving him a night to barely remember. However, for many people today, they just want to enjoy a great time with their favourite people and celebrate their impending marriage to the woman they love. What better a way of doing so than in a luxury villa packed with some incredible amenities?
What constitutes a great bachelor party?
Heading to a great location (preferably with lots of sunshine)
Having suitable accommodation that is large enough for a big group of friends and offers great value for money
The option to take part in plenty of activities and excursions
Somewhere to throw a delicious BBQ
Plenty of cold beer
Preferably somewhere close to a beach
Nearby nightlife with somewhere to enjoy a good old-fashioned 'pub crawl'
These are the main ingredients that when combined, create the perfect setting for a memorable bachelor party. Fortunately, we have a number of choice luxury villas in Phuket, Thailand which effortlessly tick off all of these boxes. Let's have a look, shall we?
Villa Thousand Hills
Our first selection is Villa Thousand Hills in Nai, Phuket. This is a 9-bedroom villa that comfortably accommodates up to 18 guests and boasts exceptional value for money. There is are spacious, flowing living areas with floor to ceiling windows and balconies that offer boundless views of the Andaman ocean that lay astern.
Some of the highlighted features include a large infinity pool, 2 sauna rooms to sweat out the hangover, a 6-man jacuzzi, a spacious BBQ deck area for those evening feasts, a fitness room, bicycles that can be used to travel the short 800m distance to the beach, a kitted games room, media room for movies and music, kayaking, paddleboarding, karaoke, and a stocked wine cellar to boot. There is quite literally everything you could possibly need for the ultimate bachelor party!
Villa Yang
Our second choice is Villa Yang, a 5-bed, 10-man luxury villa that rests on a private cliff-face in the heart of Kamala, Phuket. This architectural masterpiece spans over 3 levels which boast a unique interior design that effortlessly fuses with the surrounding natural landscape. Each of the bedrooms has en-suite facilities and a private deck. A full-time chef is onsite, providing mouth-watering gastronomic experiences, a 15m infinity pool, plenty of lounging areas to kick back and enjoy a few beers, a spacious yoga deck, an iPod docking station to blast out your favourite tunes, and so much more!
For the smaller and more intimate bachelor party with a few close friends, you won't find a more suitable villa than Villa Yang.
Villa Beyond
Villa Beyond truly is something else. This glorious villa can accommodate up to 14 guests rather comfortably, with plenty of expansive open spaces to enjoy. The main living area has ocean-facing sofas from which you can soak up the breath-taking vistas of the turquoise Andaman Sea. Located in Bangtao, Phuket, guests can enjoy the convenience of being in close proximity to some of Phuket's premier nightlife destinations.
Other key features include a large infinity pool overlooking the coast, alfresco dining, a BBQ area, fitness room, table tennis (for those competitive rounds of beer pong), a host of board games, and an awesome rooftop lounge.
Villa Namaste (& Beyond)
Next door to the Villa Beyond (mentioned above) is Villa Namaste. These two glorious villas can be rented together, accommodating up to 26 guests, for the larger parties. The key features as mentioned above are relevant for both villas as practically identical in layout. The main benefit of these gorgeous villas is the vast amounts of shared communal areas that can be enjoyed together. That, and with a short 8-minute drive to Surin beach, or a further 22 minutes to Patong; there's plenty to see and do in the surrounding area.
The Surin Villa
The Surin Villa is a new exclusive villa that is yet to be listed on our website, however, it is almost certainly worth mentioning. For more information regarding this spectacular property, please feel free to contact us and we will tell you all about it!
Of course, these are just a mere handful of the many luxurious villas that we have available, and there certainly are a wealth of other top candidates that would be suitable for a bachelor party. However, we believe that these 5 are the most suitable, with plenty of exceptional facilities and amenities to accommodate you and your closest friends!
If you're looking to through a bachelor party to remember, then you will almost certainly be able to do so in one of these properties. Again, for more information regarding any of our luxury villas, please feel free to contact us at your convenience.