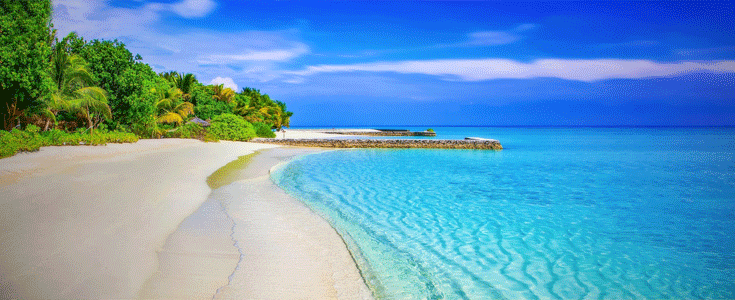 The Top Five Beautiful Beaches in Phuket
If you've been to Phuket before and can't find your favourite beach listed here, then we'd love to hear about it—often the most incredible beaches are those that lie off the beaten track!
And without further-a-due, let's begin our journey across the glorious tropical island of Phuket:
1 – Freedom Beach
What is arguably the most attractive quality about Freedom Beach, is precisely what the name implies: the freedom that you feel when softly pacing along this 300-metre strip of white sand. It's a gorgeous beach which feels as though you're stranded on a desert island, only, with a convenience restaurant and beach bar within reach to save you the trouble of having to hunt for food! Other than that, there's little else to distract you, which is absolutely perfect!
Sure, sometimes it's nice to have the occasional wandering vendor disturb your snooze with some fresh fruit (which is common in the busier spots), but if you want to experience the ultimate peace & quiet, this is your beach! Certainly, it's quite difficult to get to, but that's what makes the journey all the more worth it: the fact that few people can be bothered—so, if you're up for a longtail boat trip, or a hike down a steep footpath, you'll likely have this spectacular gem to yourself (more or less).
Freedom is located to the South-West of the island in the Kathu District, on the edge of Pa Tong.
2 – Yanui Beach
If you're all about finding the best spots to take your holiday snaps, then Ya Nui beach is the place to go. Sure, it's rather small at only 200m in length, however, for what it lacks in size it more than makes up for with natural beauty. It's a gorgeous L-shaped beach with striking scenery, and an attractive rocky outcrop that is simply perfect for taking some holiday photo's that will be the envy of all your friends and family! It's also great for snorkelling too!
This beach is incredibly popular which can have its downsides, particularly if you like to have a beach relatively to yourself. That said, there's a great selection of restaurants and vendors for you to choose from, making it an ideal spot if you'd like to spend the day, have a few drinks and feast with your loved ones.
Yanui Beach is located in Rawai, in the Mueang Phuket District, near the South-Westerly point of Phuket.
3 – Bang Tao Beach
Bang Tao Beach is a personal favourite and is one of the largest beaches in Phuket, half-way between the airport and Patong Beach (which we'll cover in a moment). It's a gorgeous stretch of sand that is home to many exciting bars, restaurants, and resorts, including the world-famous Laguna Phuket. Bang Tao also has a thriving nightlife, with plenty of bustling markets including Boat Avenue, where you can enjoy local cuisine, and all manner of other exciting treats!
Bang Tao Beach is located in (you guessed it) Bang Tao, which covers 6km of the western side of the island, approximately half-way down.
4 – Patong Beach
Saying that Patong Beach is among the most beautiful in Phuket is not strictly true. Certainly, it boasts plenty of gorgeous scenery, soft sand, and relatively clear water; however, the fact that it is one of the busiest and liveliest spots on the island can take away from its authenticity. For those who value their privacy and are seeking some peace and quiet, this beach would be your worst nightmare. However, if you are a social butterfly and want to get involved with the hustle and bustle and party into the early hours of the morning, then this spot is almost certainly the perfect place for you!
Pa Tong is a large district to the South-West of Phuket, covering 2.5km of the coast.
5 – Laem Singh Beach
Laem Singh Beach is a hidden gem that has long provided visitors with a "Caribbean-Esque" nostalgia. There are lazy fish-tail palms that lean over the beach, providing shade for those who need respite from the sun; and fine-white sand that is lapped by crystal clear waters. Perfect.
In 2017 it was closed, due to a dispute, as the landowner no longer wanted people crossing their property to reach it. You could access the beach via boat for a time, though unfortunately, as of 2019, this boat service was discontinued. That said, you can now access the beach via land with a 15-minute trek—through the path is rather tricky and certainly isn't recommended for families with small children. However, if you're quite the adventurer and you love a good mission, then this spectacular beach will be entirely worth it!
Laem Sing Beach is located in Kamala, in the Kathu District, on the west coast of the island.
Conclusion
Again, these are our favourite beaches in Phuket, but that's not to say that there is a shortage of beaches or that you won't be able to find a gorgeous spot wherever you go. There's so much to see and explore in Phuket which is why it is one of the most popular destinations in the world. So, what are you waiting for? Get out there and explore!