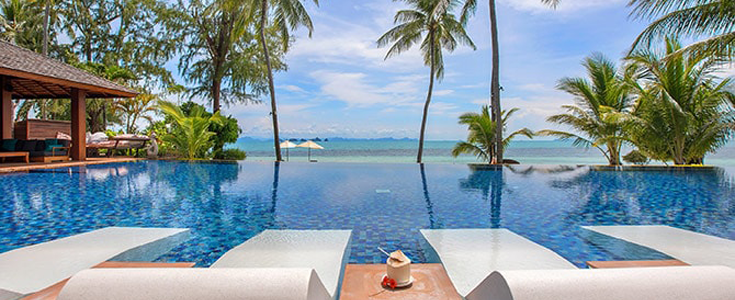 Beachfront Villas That Will Render You Breathless
How many times in the last month have you dreamed about packing your bags and jetting off to paradise? I'd wager quite a few. It's a perfectly natural thing to do when you're hard at work, sat in traffic, or listening to the kids squabble over who's turn it is to pick a movie.
You find yourself slowly zooming out of your body as the backdrop of your life fades into a tropical beach scene. Suddenly, you're sprawled out on a deckchair sipping on an ice-cold Mojito with only the sounds of the gentle waves rolling over the golden sands of Koh Samui. The midday sun is beating down over you, and you feel a bead of sweat roll down the small of your back, reminding you that it's time for a dip in your private infinity pool that offers panoramic views of the endless blue horizon. You walk over to the edge, raise your arms above your head and dive into the ref—and now you're back in traffic. The lights are green, and a train of angry drivers are tooting their horns behind you! Best get back home and book yourself into one of these breath-taking beachfront villas in Koh Samui. Go on! You deserve it.
Baan Kilee | 4-8 + 2 Kids Bedroom | Lipa, Koh Samui
Baan Kilee is a glorious beachfront villa with 8 bedrooms and enough space to sleep up to 18 guests! It's an expansive retreat that nests in a tropical estate on the Western coast of Koh Samui. It boasts large rooms, a gorgeous infinity pool (too soon?), with an endless ocean-view, and an outdoor recreational area with a Ping Pong table, a poolside BBQ, and even an outdoor cinema!
This villa is ideal for large families, or big groups of friends who are looking for a private retreat in one of the most gorgeous locations in the world. Follow the link for more information!
Baan Hinta | 4-5 Bedrooms | Lamai, Koh Samui
Baan Hinta is a truly spectacular beachfront property in Lamai, Koh Samui. It's unique, luxurious and boasts creative architecture that effortlessly highlights and compliments the natural splendour of the location.
This villa features a stunning & spacious infinity pool, an outdoor Thai sala styled BBQ area, and some wonderful lounge areas. This is perfect for couples or small families looking for a natural escape in an irrefutably paradisiacal location. For more information and images, simply follow the link provided.
Baan Hinyai | 5 Bedrooms | Lamai, Koh Samui
This magnificent 5-bedroom villa is located in a private tropical estate in Lamai, Koh Samui. You can enjoy an oversized but by no means uninviting infinity pool, surrounded by sun-drenched lounge areas. It's perfect for those who are looking to laze their days away with a spot of sunbathing, barbequing, and drinking. The space is ample enough for a family, and there's plenty of features that will make entertaining guests an absolute pleasure.
If you'd like to know more about Baan Hinyai, simply follow the link.
Ban Sairee | 2-9 Bedrooms | Leam Sor, Koh Samui
Ban Sairee is a breath-taking 9-bedroom beachfront villa and is as grand as it is gorgeous. This villa overlooks a secluded and relatively untouched beach near the sought-after location of Lamai. This spacious 9-bed can sleep up to 18 guests comfortably, making it the perfect villa for big families, groups of friends, or even those who are looking to woo & entertain valuable clients!
You can enjoy traditional Thai-style architecture, a spacious swimming pool, direct access to your own private beach, a large trampoline, and plenty of outdoor space for entertaining guests or indulging in a summer BBQ with friends.
For more information on the many amenities that this awesome beachfront has to offer, simply follow the link.
Upni Duniya | 9 Bedrooms | Bangrak, Koh Samui
If you're looking for a large and luxurious beachfront villa that can accommodate a large family or a big group of friends, then Upni Duniya is the perfect property for you! This open-concept villa is well-optimised and offers ample living & dining spaces both indoors and out.
You can enjoy a gorgeous chemical-free saltwater swimming pool, with a charming floating island in the centre. The pool deck which will almost certainly be your home for the duration of your stay is kitted out with comfortable loungers, and everything that you could possibly need for a lazy day in the sun. Oh, and did we mention the hot tub, plunge pool, and sumptuous rainfall showers?
Follow the link provided and explore this magnificent villa in greater detail. We guarantee you'll fall in love with it.
Villa Sila | 5-7 Bedrooms | Meanam, Koh Samui
This villa is arguably the perfect example of luxury living in Thailand. It's an elegant beachfront retreat which boasts all of the home comforts that you could need, with modern & open living areas and a state-of-the-art kitchen.
This irrefutably idyllic retreat is the safe, tropical haven that we all often daydream about. It has the views, it has the stunning, vaulted timber ceilings, the private sauna, a spacious swimming pool and of course, traditional Thai artwork scattered throughout.
If you'd like to whisk your family away for an utterly authentic tropical island retreat, then Villa Sila would be an excellent choice!
Villa Wayu | 5-7 Bedroom Villa | Maenam, Koh Samui
This majestic beast is perfect for beach lovers that want to roll out of bed of a morning and be a no more than a few steps away from the beach. This exquisite retreat features comfortable and stylish bedrooms, with an additional bunk room for children. It has a blue-tiled swimming pool, a delightful gazebo for a charming evening meal outside, a built-in bar, a relaxing contemporary lounge area and all of the entertainment amenities that you could hope for. Want to know more about Vila Wayu? Simply click on the link!
Are you feeling the urge to book yourself into one of these gorgeous villas?
If you've made it this far and you're feeling desperate to get your next holiday booked, then we certainly can't blame you. Koh Samui is an attractive holiday destination as it is without the added temptations of such glorious beach front villas.
Why don't you contact us today if you're keen to explore this further? Perhaps you're looking for something a little different? Simply let us know and we'll find the perfect spot for you!