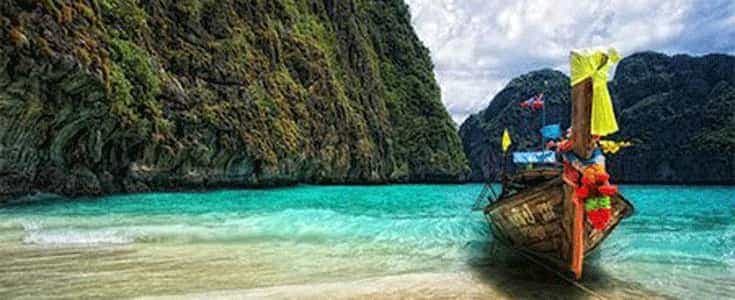 A Quick Guide to Thai Islands
Thousands of travellers flock to Thailand every year, whether it for rest and relaxation, partying like a wild child, or exploring the country natural beauty. From the bustling cityscape of Bangkok to the temple paradise of Chiang Mai, Thailand mainland has plenty of treasures to offer. However, no trip to Thailand would be complete without a visit to some of the country beautiful islands, and there are certainly plenty to choose from.
Phuket
Phuket has been somewhat overtaken by tourists in recent years and has lost much of its natural beauty. However, it is still home to some beautiful scenery and great night markets, if you re interested in doing some shopping and meeting other tourists while you re in Thailand.
The many Thai islands have a wealth of attractions to offer, from budget backpackers and upscale tourists to activity-loving families and lazy beach dwellers. The unrivaled beauty of these islands makes them well worth a visit, and there something for everyone once you know where to look.

Ko Samui
Ko Samui is a well-established tourist island, so if you re looking for all of the usual holiday comforts in a beautiful setting, it a good place to rest your head. It offers a great mix of expensive resorts and budget beach huts, but all are situated close to luxurious massage spots and wonderful restaurants.
Ko Phi Phi
Ko Phi Phi is one of the most popular Thai islands, in part because of its inclusion in the blockbuster film The Beach (2000) which showcased the secluded beauty of Maya Bay, just a short boat ride away from the main island. The island has some gorgeous beaches to offer and a bustling year-round nightlife.
Ko Tao
Ko Tao is most popular for activity-packed beach holidays. It is home to long, rolling beaches and offers a mix of challenging rocky hikes. You ll see amazing underwater vistas if you take some of the island popular scuba diving lessons.
Ko Pha Ngan
Ko Pha Ngan is the original party island, perfect for dancing the night away. It hosts the world-famous, monthly Full Moon Party, which creates a wonderland of music, dancing, fireworks, and performances. If you re into partying then this will be your paradise. Just make sure to be smart and stay safe.
Ko Chang
Ko Chang is the second-biggest Thai island and boasts a beautiful central strip of hills that offer the chance for jungle exploration. There also a wealth of white-sand beaches to choose from, so you can find somewhere secluded to chill out when you re done exploring.
Ko Lanta
Ko Lanta is a particularly family-friendly island, as its tighter laws have stopped wild bars and dangerous watersports from taking over. It offers beautiful forest walks, caving adventures, elephant sanctuary trekking, and snorkeling, making it the perfect spot if you want something more than a lazy beach break.