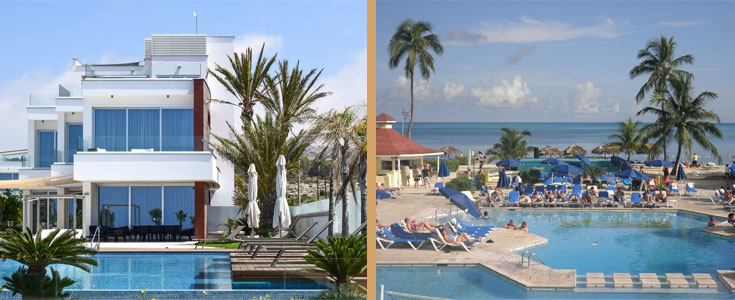 Why Choose a Luxury Villa Over a Luxury Hotel
For years, 5-star hotels have been the 'go-to' accommodation for holiday makers in South-East Asia. While most travellers and backpackers favour beachfront huts, or hostels, those looking for something a little bit more upmarket would book themselves into grand hotels or villa complexes. Today however, a new trend that is take precedence over the rest, is renting a private luxury villa. But why? What is it that a luxury villa has over a 5-star hotel? In this article, we're going to look at some of the clear differences, so that you can decide for yourself.
A desire for privacy
If you've spent many a vacation on an 18-30, or in an all-inclusive hotel in the South of Spain, or any other holiday of convenience; then you'll be all too aware of how crowded things can get. The trouble with staying in a hotel—especially in peak season—is that you'll find yourself having to share the facilities with hundreds of other people.
A private luxury villa on the other hand will afford you the pinnacle of privacy. So, no longer will you have to share the gorgeous infinity pool with a horde of screaming children. No longer will you need to wait in line for breakfast of a morning or wake up uber early in order to get a deckchair by the pool. Instead, you can simply roll out of your luxurious King-sized bed at whichever time you choose, to have the whole place to yourself.
Certainly, you'll probably want to have your friends or family with you in a large luxury villa, but at least it will be the people closest to you, as opposed to total strangers.
Villas are much better value for money
Let's say for example that you're travelling with a large group of friends—8 of you perhaps. Booking yourselves into a hotel is going to be incredibly expensive, under the circumstances, particularly if you're after luxury. In peak season it will be especially difficult to find a 5-star hotel that will offer very reasonable rates. A luxury villa on the other hand, will offer much better value for money.
As an example, with a quick search on Trip Advisor, I found a 5-star hotel for roughly £163 a night. For 8 people, that's £1304. Now consider the fact that we have private luxury villas accommodating up to 8-10 people starting from just £759 a night. The money saving potential is irrefutable.
That said, the fact that you get so much more bang for your buck, you may even wish to spend a little bit more to get the most grand and luxurious villa possible. Imagine having your own private villa with an infinity pool overlooking the ocean; being seconds away from a secluded tropical beach; having your own summer barbeque area; enough sun loungers to accommodate all of you; each bathroom fitted with sumptuous rainfall showers; a jacuzzi and sauna; pool and ping-pong tables; and so much more! All of this can be yours, for less than it would cost you all to stay in a 5-star. Has that piqued your interest?
Luxury Villas are always well-situated
Typically speaking, private luxury villas tend to be located in the hottest spots (i.e., on the beachfront). Certainly, hotels are generally located in central areas with plenty of nearby amenities, but which would you prefer? Being in the heart of nature where you can enjoy your privacy, or being in the thick of it with scores of other tourists? In a large group, getting affordable transport for a night out on the town isn't going to set you back all that much. Thus, staying in a private luxury villa wins this round as well.
So much room for activities
Another huge benefit for staying in a private luxury villa is the amount of space that you'll have available to you. Even in the finest 5-star resorts, you won't always have ample space to enjoy, and all of the common areas will have to be shared with strangers. A luxury villa on the other hand is designed with space in mind. Therefore, you'll have more than enough room to breathe. A large kitchen and living area, including spacious bathrooms, all to be enjoyed between yourselves. And if you're not too keen on the idea of cooking for yourselves, then most of our villas have the option to hire your own personal chef to cook breakfast and dinner on your behalf!
Your holiday, your rules
Staying in a hotel can be quite restrictive in terms of rules and regulations. Yes, there will be rules to be respected when staying in a luxury villa, particularly when it comes to caring for the property. However, for the most part: you're in charge. This means that there's no curfew on using the swimming pool or fitness facilities. So, if you want to go for a swim at 3'o'clock in the morning in the nude, then well…go for it. In addition to that, with your own private chef, you won't have to stick to the restrictive hotel menus—you can literally eat whatever you want. So, if you want to work your way through the 12 must-eat local dishes in Thailand, then you can go right ahead.
Conclusion
We're not saying that you'd be foolish to stay in a hotel. Yes, there are plenty of gorgeous hotels in Thailand and some are very reasonably priced. If you're a couple a travelling alone, then perhaps a luxury villa won't be the best option for you. Or perhaps you'd like to be right in the thick of it and are not so concerned with privacy. However, if you do want to enjoy your own space and there is a large group of you looking for the best value for money, then we couldn't recommend staying in a gorgeous private luxury villa enough!
If you're feeling a little overwhelmed or would like some help finding the best deals, then please do not hesitate to contact us at your convenience. We're always happy to help!