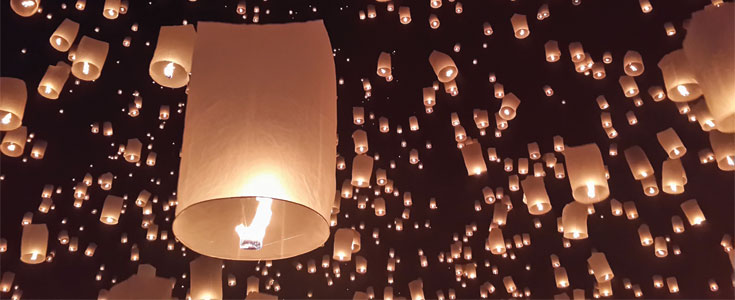 Loy Krathong Festival
Thailand is famous for many things, but if there's one thing that really makes them stand out as a nation, it's their wonderful culture and their passion for celebrating it! Throughout the year Thailand celebrates a variety of different things and they never fail to do so in such a bright and wonderful fashion. In fact, if you look at a typical Thai calendar, you'll discover that they find reason to celebrate quite frequently! And why not? After all, life should be about dancing, music, good food, and grater company. One of the most beautiful celebrations of all, however, is Loy Krathong, or "the festival of lights".
Just the name and what it implies is enough to fill you with warmth, isn't it? "the festival of lights". But what does it mean? And what can you expect from this world-renowned festival when visiting Thailand during the first half of November?
What is Loy Krathong?
Loy Krathong is a national event that is celebrated throughout the country on the 12th lunar month, every year. This is typical during the first half of November. The origin of this festival is said to have been in Sukhothai, which is approximately five hours away from the capital, Bangkok. How long ago the celebrations started is difficult to say, though it is estimated to have been around 1220-1350. In any case, one thing is for certain: it's a well-loved celebration that is almost certainly here to stay.
The legend behind the Loy Krathong festival honours the very first person to float a Krathong: Nang Noppamas. She was a beautiful consort of the King Sukhothai with a passion for artistic expression. She was famous for crafting the most beautiful floral displays, and soon attracted the attention of King Ramkhamhaeng, where he then began the tradition of floating the Krathong in her honour, every year. This is also why there are many beauty pageants held throughout Thailand during this celebration, as it was Nang Noppamas' unyielding beauty and artistic prowess that won the king over. Those who win the beauty contests receive the title of "Queen Nang Noppamart," which is considered a great honour.
Today, Loy Krathong is celebrated for a number of different reasons, the most notable of which is to mark the end of a long and rather wet rainy season. If you've ever been in Thailand during the monsoon season which starts in July, you'll understand why the Thai's feel the need for such a grand celebration (and why ex-pats living in Thailand welcome the festival with open arms too)!
The holiday isn't necessarily a religious one, however, you will find that many pious Thai's will pray to the water goddess, Mae Khongkha, either giving thanks for her bountiful blessing or seeking forgiveness for using too much. They honour the water goddess by crafting decorative boats, which they then float down the river or out to sea.
Many believe Loy Krathong to be the most beautiful celebration of all and they might be right! Having attended several myself before, I must say that there is something truly powerful and undeniably mesmerising, about watching thousands of decorative candle-lit floats, drift off into the night.
What do the Krathong (floats) represent?
When exploring the Krathong festival you will see thousands of floats for sale, hand-crafted by the locals in a variety of stunning styles and sizes. Many people make their own, however, there are plenty to buy for small change, and foreigners are more than welcome to participate—that's one thing that you can always count on the Thai's for they always love to share their culture with other people.
The floats are made using banana leaves and polystyrene, with burning incense and a candle. The candle is lit, a wish is made, and you let your misfortunes go and sail away along the river, never to be seen or heard from again. It's about rebirth and fresh starts. It's about being thankful for everything that has been, and hopeful for everything that is to come. Beautiful.
In addition to that, the releasing of the Krathong also symbolises the abandonment of grudges and anger. For those who have been wasting a lot of energy and time on personal feuds, it's a wonderful time to let go and free yourself of those soul-destroying burdens, and to look forward to a more positive and accepting future.
Where can I celebrate Loy Krathong?
To be honest, all you need to do is find a body of water in Thailand, and you'll be certain to come across a celebration! There are always hundreds and hundreds of vendors selling handmade Krathongs, so be sure to purchase yours, and then get involved. If you're in Koh Samui for example, you'll never be more than a stones-throw away from a beach-side gathering where both Thai's and foreigners alike will come together in celebration of this truly spectacular occasion.
In addition to local vendors selling Krathong floats, you'll find a wealth of delicious food stalls slathering you with tantalising aromas! There will be live music, plenty of laughter and an incredibly positive vibe. Once you've finished making your wishes and sending your floats out into the water, you'll be sure to find a local bar where you can party the night away and continue your celebrations into the early hours of the morning.
May the light be with you!
Thank you for taking the time to read this post, we hope that you've found it useful and interesting. If you're going to be in Thailand during early November, then we wholeheartedly recommend that you get involved with these wonderful festivities. It's such a positive occasion that will give you an incredibly clear insight into the beautiful nature of Thailand's rich, cultural tapestry. In any case, we wish you a happy Loy Krathong!