 This villa is no longer available for rent here
Discover other luxury villas available in Phuket & Koh Samui
Feel free to
contact us
- our Thailand villa specialists will be happy to
help you find the villa holiday of your dreams.
"The Inspiring Villas Team"
Sleep up to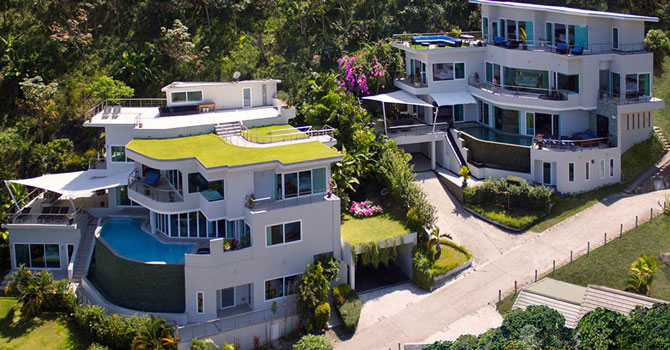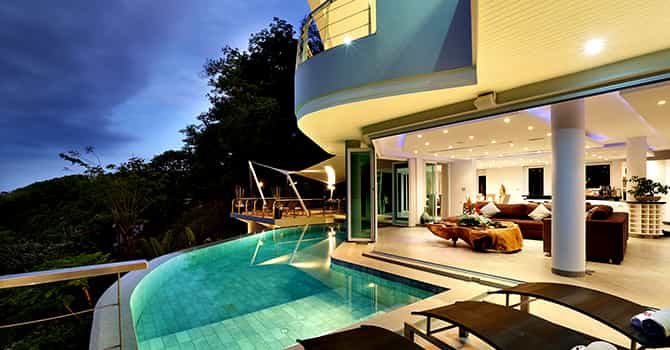 Located on a hilltop just above the Bangtao beach on the west coast of Phuket. Enjoy one of the best views in all of Phuket, while having the vibrant nightlife and perfect getaway. With its expansive open spaces, whitewashed walls, natural light and elegant design, Villa Beyond invites true relaxation. The villa offers plenty of open common areas, while its six guest rooms and impressive master suite over three levels provide ample privacy, making it ideal for parties or corporate events. Villa Namaste features luxurious elegance and sophistication with a natural, leafy-green backdrop. This villa offers guests commanding views from its rooftop terrace overlooking the pastoral fishing village of Bang Tao and the undulating blue Andaman beyond. All of the villa's six air-conditioned bedrooms come complete with their own balcony or patio featuring stunning ocean views.
Highlight Features
12m & 16m Infinity Pool
Alfresco Dining
In-villa Spa
Jacuzzi
Massage Room
Parking Area
Rooftop Lounge
Staff Services
Treadmill
Bedrooms
Balcony
Bathtub/Shower
King & Queen Bed
LCD/LED TV
Lounge Chair
Non Smoking
Safe Box
Toilet Shower
Twin Beds
Facilities
Air Conditioner
BBQ
Blue-Ray Player
Cable TV
Espresso Machine
Ipod Dock
SONOS System
WIFI
Wine Fridge
Travel Time
16 minutes drive to Laguna Golf
30 minutes drive to Patong Beach
32 minutes drive to Central Festival
36 minutes drive to Phuket Airport
7 minutes drive to Tesco Bangtao
8 minutes drive to Surin Beach
What is included
Complimentary use of baby cot and highchair
Complimentary airport transfer
One roundtrip airport transfer (same flight only)
Staff service inclusion
Full staff service (villa manager, housekeeping & chef)
Extra Charge
F&B at guests cost + 20% additional surcharge from the total shopping bill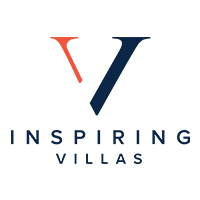 Villa Beyond Namaste | 7+6 Bedroom Villa - Bangtao Beach, Phuket
Rental Rate
| Period Dates | Min Night Stay | Price Per Night (USD) | Price Per Night (USD) | Price Per Night (USD) | Price Per Night (USD) | Price Per Night (USD) | Price Per Night (USD) | Price Per Night (USD) | Price Per Night (USD) | Price Per Night (USD) | Price Per Night (USD) | Price Per Night (USD) | Price Per Night (USD) | Price Per Night (USD) | Price Per Night (USD) | Price Per Night (USD) | Price Per Night (USD) | Price Per Night (USD) | Price Per Night (USD) | Price Per Night (USD) | Price Per Night (USD) | Price Per Night (USD) | Price Per Night (USD) | Price Per Night (USD) | Price Per Night (USD) | Price Per Night (USD) | Price Per Night (USD) |
| --- | --- | --- | --- | --- | --- | --- | --- | --- | --- | --- | --- | --- | --- | --- | --- | --- | --- | --- | --- | --- | --- | --- | --- | --- | --- | --- | --- |
| 01-Sep-2018 - 31-Oct-2018 | 2 | 0 | 0 | 0 | 0 | 0 | 0 | 0 | 0 | 0 | 0 | 0 | 0 | 1,660 | 0 | 0 | 0 | 0 | 0 | 0 | 0 | 0 | 0 | 0 | 0 | 0 | 0 |
| 01-Nov-2018 - 16-Dec-2018 | 3 | 0 | 0 | 0 | 0 | 0 | 0 | 0 | 0 | 0 | 0 | 0 | 0 | 2,100 | 0 | 0 | 0 | 0 | 0 | 0 | 0 | 0 | 0 | 0 | 0 | 0 | 0 |
| 17-Dec-2018 - 26-Dec-2018 | 10 | 0 | 0 | 0 | 0 | 0 | 0 | 0 | 0 | 0 | 0 | 0 | 0 | 2,190 | 0 | 0 | 0 | 0 | 0 | 0 | 0 | 0 | 0 | 0 | 0 | 0 | 0 |
| 27-Dec-2018 - 15-Jan-2019 | 10 | 0 | 0 | 0 | 0 | 0 | 0 | 0 | 0 | 0 | 0 | 0 | 0 | 3,500 | 0 | 0 | 0 | 0 | 0 | 0 | 0 | 0 | 0 | 0 | 0 | 0 | 0 |
| 16-Jan-2019 - 31-Jan-2019 | 3 | 0 | 0 | 0 | 0 | 0 | 0 | 0 | 0 | 0 | 0 | 0 | 0 | 2,190 | 0 | 0 | 0 | 0 | 0 | 0 | 0 | 0 | 0 | 0 | 0 | 0 | 0 |
| 01-Feb-2019 - 17-Feb-2019 | 10 | 0 | 0 | 0 | 0 | 0 | 0 | 0 | 0 | 0 | 0 | 0 | 0 | 2,400 | 0 | 0 | 0 | 0 | 0 | 0 | 0 | 0 | 0 | 0 | 0 | 0 | 0 |
| 18-Feb-2019 - 03-Mar-2019 | 3 | 0 | 0 | 0 | 0 | 0 | 0 | 0 | 0 | 0 | 0 | 0 | 0 | 2,190 | 0 | 0 | 0 | 0 | 0 | 0 | 0 | 0 | 0 | 0 | 0 | 0 | 0 |
| 04-Mar-2019 - 17-Apr-2019 | 3 | 0 | 0 | 0 | 0 | 0 | 0 | 0 | 0 | 0 | 0 | 0 | 0 | 1,950 | 0 | 0 | 0 | 0 | 0 | 0 | 0 | 0 | 0 | 0 | 0 | 0 | 0 |
| 18-Apr-2019 - 28-Apr-2019 | 7 | 0 | 0 | 0 | 0 | 0 | 0 | 0 | 0 | 0 | 0 | 0 | 0 | 2,190 | 0 | 0 | 0 | 0 | 0 | 0 | 0 | 0 | 0 | 0 | 0 | 0 | 0 |
| 29-Apr-2019 - 30-Jun-2019 | 2 | 0 | 0 | 0 | 0 | 0 | 0 | 0 | 0 | 0 | 0 | 0 | 0 | 1,750 | 0 | 0 | 0 | 0 | 0 | 0 | 0 | 0 | 0 | 0 | 0 | 0 | 0 |
Note:
- Refundable security deposit of $3000 USD is required in any currency upon check-in
Bedroom Configuration
VB Master Bedroom - King bed, ensuite bathroom with Jacuzzi
VB Bedroom 2 - King bed, ensuite bathroom
VB Bedroom 3 - King bed, ensuite bathroom
VB Bedroom 4 - King bed, ensuite bathroom
VB Bedroom 5 - King bed, ensuite bathroom with bathtub
VB Bedroom 6 - King bed, ensuite bathroom
VB Bedroom 7 - King bed, ensuite bathroom
VN Master Bedroom - Queen bed, ensuite bathroom with Jacuzzi
VN Bedroom 2 - Queen bed, ensuite bathroom
VN Bedroom 3 - Twin beds, ensuite bathroom
VN Bedroom 4 - Queen bed, ensuite bathroom
VN Bedroom 5 - Queen bed, ensuite bathroom with bathtub
VN Bedroom 6 - Queen bed, ensuite bathroom
Enquire Now
No Booking fees
Best Price Guaranteed
Enquire Now