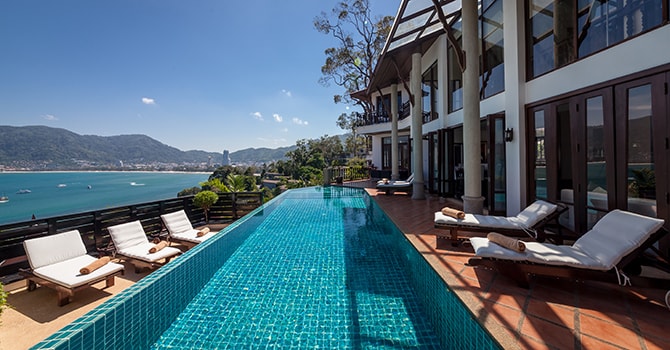 Price Range

$

900

-

$

2200

/ night
Value purchase
- by
Sid R
, August, 2017
5 of us booked this villa for 6 days and when we arrived we all was so impressed and happy with the choice. Joyce the manager was helpfull with every aspect of our stay. Pat the maid is so sweet and very nice lady. If you are going to book a villa this is the one to book. Thank you very much joyce pat and noi for a very enjoyable stay and hope to come back again. Thank you.xxx
Value purchase
- by
Meander
, June, 2017
Having stayed once before back in 2011 it was great to see the maintenance and luxury standard Baan Paradise is still there...but even better. Master suite is one of the best I have stayed at. Joyce the manager and her adept team ensured every request my guests and I had was taken care of. Will return hopefully sooner than later.
Value purchase
- by
Jatin
, January, 2018
Service was excellent. The helpers were great - the villa was always cleaned with fresh towels. To those reading this review.. i have stayed at a few villas in phuket. But this by far beats every other villa by a mile. If you are looking for a villa in patong, dont look further cause this is the best villa in patong area. Cheers
Value purchase
- by
Pioneer
, December, 2018
No words can describe the wonderful stay we had a this amazing villa....the place is just beautiful and the views are just amazing.....photos can not capture the beauty of the views......they are truly lovely and to sit in the pool gazing at the views is so nice. Thank you Joyce and her team for making this holiday truly wonderful.
Value purchase
- by
Guest
, August, 2017
5 of us booked this villa for 6 days and when we arrived we all was so impressed and happy with the choice. Joyce the manager was helpfull with every aspect of our stay. Pat the maid is so sweet and very nice lady. If you are going to book a villa this is the one to book. Thank you very much joyce pat and noi for a very enjoyable stay and hope to come back again. Thank you.xxx
Value purchase
- by
LeeAnn, Australia
, June, 2014
All the staff were there to greet us with a lovely cold towel and drink. (I had also arranged some hot nibbles for us on our arrival). Joyce showed us around the house which it so beautiful and large. The view is to die for as is the staff, nothing is ever a problem they can arrange just about anything you want. We also arranged to have some meals cooked while we were there and not only is there so much but the flavours are the best I have ever had.
Value purchase
- by
Shawn, Melbourne
, October, 2014
We stayed here for 6 nights, 7 adults and 3 children ( 13,7, and 3). It looks just as it does in the photos. The view was amazing, I wasn't sure if I was in Phuket or monte Carlo! The bedrooms are huge and very comfortable. The kids and the adults enjoyed the pool and the snooker table table. It is high on the hill, but you can walk down to Patong in 15-20 minutes.
Value purchase
- by
Pat Fox
, March, 2019
Great Villa, great view, nice living spaces. Pool area is pretty and is overlooking Patong Bay and beach. House needs some upgrading, maintenance, etc., showers run hot/cold, and house staff is friendly but can't speak English. Supposed concierge was never around and screwed up some of the requests our group made.
5

/

5

stars

8