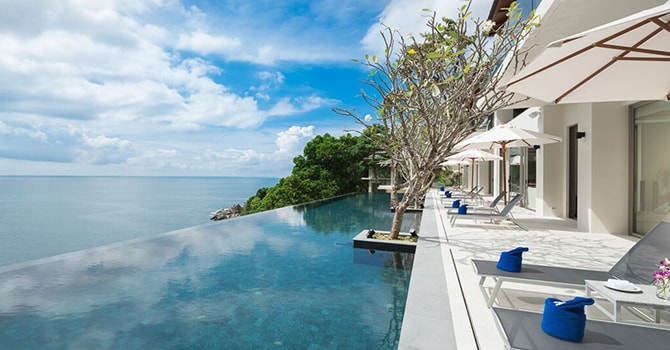 Price Range

$

1490

-

$

5950

/ night
Value purchase
- by
David M
, May, 2018
This is the type of villa that needs to be experienced to be believed. A simply magnificent clifftop location on a perfectly secluded private bay. Nothing but jungle on either side and the most amazing villa you could ever imagine. Infinity pool, rainfall showers, day-spa, games room. Its got it all, along with an amazing chef and staff. Words can't describe The Aquila, you need to feel it!
Value purchase
- by
Simon O
, May, 2018
Stayed here with the fam recently and i can not say enough how highly i recommend this place. The properly is kept immaculate, the staff are amazing and the view is to die for. You're a sucker if you stay anywhere else.
Value purchase
- by
Andrew R
, April, 2018
A guest at the Aquilla for five days including a family wedding. Rooms are massive and stylish, communal areas likewise. Beautiful pool and top notch staff for who nothing is a problem. Add to that amazing coral reef to snorkle around and its heaven on earth. If you are thinking of staying somewhere different or have a special occasion to celebrate this is the place to go.
Value purchase
- by
Erin
, February, 2018
We needed a place for a big family and I'm glad we settled on the aquila. This villa was beautiful and the views were breathtaking. Enjoyed every moment. Only thing was that our grandmother found it difficult to get around and they did say an elevator would be installed which would make it perfect! Nothing to complain about this stay would be one to remember!
Value purchase
- by
Lydia
, April, 2019
The Villa itself is breathtaking and won't leave you disappointed. The privacy is really something you will appreciate. Even coming here as a big group, you will be able to find your own space and privacy (the villa is massive with more lounge areas than what you will use!). From the glassed runway to the cool stairs that connects all floors, to the infinity pool - and don't get me started on the bedrooms! And just when you think you've seen it all - you get the sunset.
Value purchase
- by
Nikki, London
, March, 2019
To say that I had been stunned with the Aquila is to say nothing. Located in a picturesque cliff and complimented by an infinity pool, villa boasts 7 bedrooms and 8,5 bathrooms, a library, a home theatre, a game room, a dining room and even a private spa!!!
Value purchase
- by
Ken, Tokyo
, March, 2019
Words can't describe this place. Pictures don't do it justice. You have to stay here to understand how magnificent and perfect everything is. No real reason to leave the villa compound. It's better than anything you'd see in a movie. Every meal that's cooked for you was delicious. Bummer now that I'm going to have to try and not compare my future vacations to my stay here...
5

/

5

stars

7