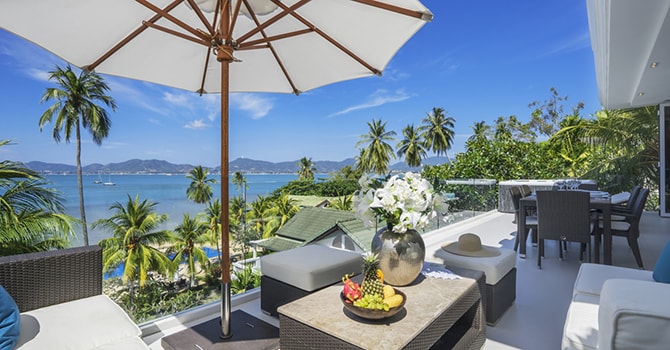 Price Range

$

1480

-

$

3350

/ night
Value purchase
- by
Levan D
, April, 2018
From the moment we walked through the door, we were taken away by the quality of the villa and the service provided by the very attentive Khun Fon. My husband and I stayed there for 8 nights with our 2 childs and my parents. The villa suited us perfectly with us in the main villa, with my parents. It's really stunning villa in a safe, gated complex. The pool is the perfect size for a group of friends or extended family. Thanks for a great holiday – we will return!!
Value purchase
- by
Beren G
, August, 2017
A stunning view, luxury interior, spacious living rooms and friendly maid. We spent 16 days there and left with regrets. We basically preferred to eat at home because there are not many places in Phuket that offer such an amazing view. We only met once 2 guests from other villas around the pool, so the pool felt pretty much private. Just to notice that the beach is not easy to swim right in front of the house. You just need to go 2 min from there. The restaurant advices in the neighborhood were a good help too.
Value purchase
- by
K Alaou
, September, 2017
We stayed in this sumptuous villa for our honeymoon. We mentioned our newlywed status and have been beautifully with delicate attentions received flowers were laid on the bed in the shape of heart, beautiful bouquets distributed throughout the house. Perfect harmony in "Villa Nirvana" located in a very quiet place away from the crowd, a superb jacuzzi on the terrace overlooking a lush garden with these birds that serenade you. A real luxury paradise of peace and pleasure. We will definitely return.
Value purchase
- by
Henry
, February, 2018
We searched for a little corner of paradise and found one. This immaculate and chic five star villa (just recently renovated) is called Nirvana for good reasons. It is a romantic hidden gem in Phuket. The panoramic sea view from the living room took our breath away and to enjoy this luxury from the terrace jacuzzi was truly magical. We loved the whole experience. We are definitely coming back next year to this luxurious & tranquil haven for more happy memories.
Value purchase
- by
Jon M
, June, 2017
The host Lina was very helpful the whole way through, despite falling ill. The chef was top quality and probably served up the best authentic Thai meal I've ever had. The cinema room was superb for the World Cup. There's a pool table and a table tennis table which you can't see in the pictures which were an added bonus. I would say that the pictures overall don't do this beautiful villa justice and the service you get once you arrive is second to none. Can't fault it at all. Thanks for having us
5

/

5

stars

5