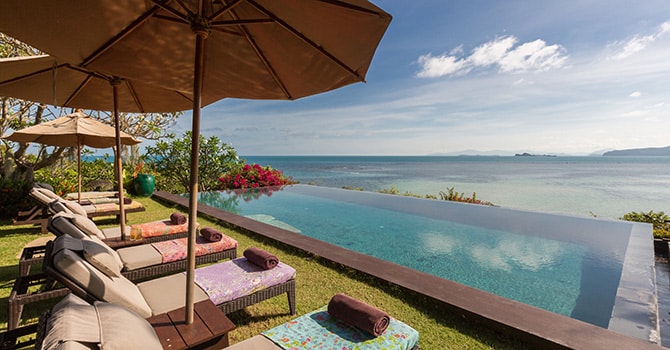 Price Range

$

1100

-

$

1600

/ night
Value purchase
- by
Meander785216 - Oct, TA
,
Fantastic value, lovely villa great area, quiet location & Cricket was the ultimate host Even before we arrived Cricket the owner had made contact to ensure we had everything we needed. The villa was lovely, air conditioned rooms great bathrooms and a comfortable living area and fully equipped kitchen so very family friendly. Loved our pool and the quiet location. Close to Livingstone cafe who does the best breakfast and Revolver for the best coffee in Bali. Cricket arranged for fogging so we didn't have a mosquito problem and looked after us like old friends! Being seasoned Bali travellers it was great to get Crickets recommendations for new restaurants. I mentioned I love fresh Limes and chilli and they were in the fridge on arrival. We would definitely go back. Thank you so much Cricket for your gracious hospitality.
Value purchase
- by
Fukeiii - Oct, TA
,
Unforgettable moments in Villa Samudra Villa Samudra is a world class villa! Host is super thoughtful, helpful and friendly. Everything is well-prepared. I got a detailed explanation about nearby restaurants, shops, and traveling spots. Many restaurants (any price ranges) were suggested by host, which are really good restaurants. Villa Samudra is super clean, as well as private swimming pool. Beds are comfortable, we slept really well (feels like my own bed). Toilets are morden, tidy, and comfort. This is a world-class Villa! It gave us a memorable and relaxing holiday!
Value purchase
- by
Stephanie - Sep, TA
,
Amazing villa with beautiful decorations During our trip through Java and Bali. We stayed for 5 days in this relaxing villa, but if it was up to us we would stay much longer. The villa looks exactly as shown in the pictures, all furniture is brand new, very clean and the manager and owner are the best. Always ready to help or give tips. And because they live there they know the best places and with their good connections they arrange anything you want and for the best price. ;) I had an amazing time here and would definitely recommend this to everybody. When your in the garden it is very nice and quite but within 1 minute walk there are restaurants, shops and the beach is also not far.
5

/

5

stars

3