 This villa is no longer available for rent here
Discover other luxury villas available in Phuket & Koh Samui
Feel free to
contact us
- our Thailand villa specialists will be happy to
help you find the villa holiday of your dreams.
"The Inspiring Villas Team"
Sleep up to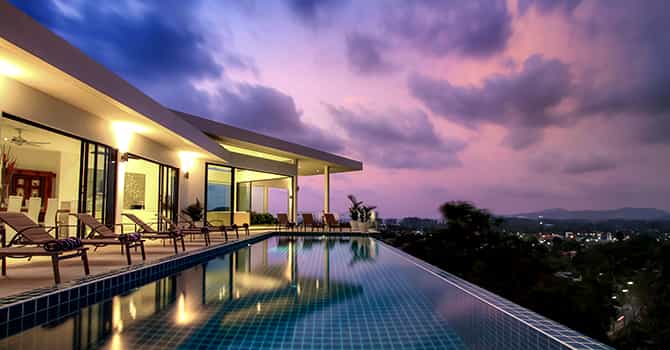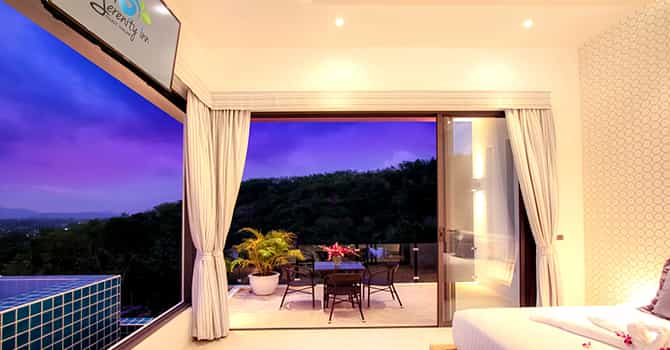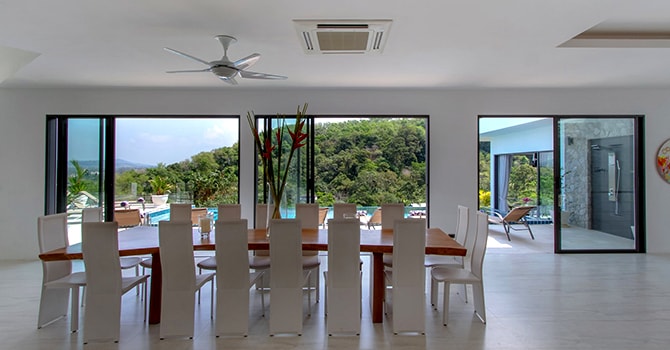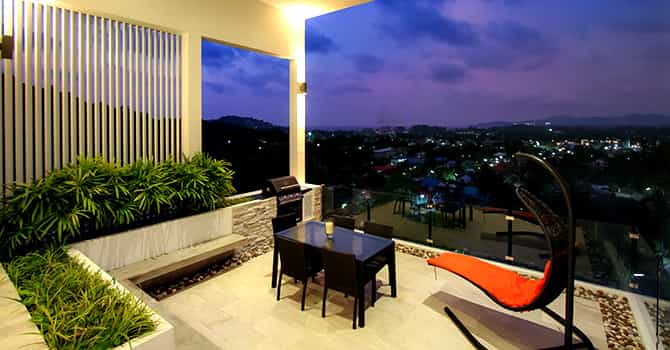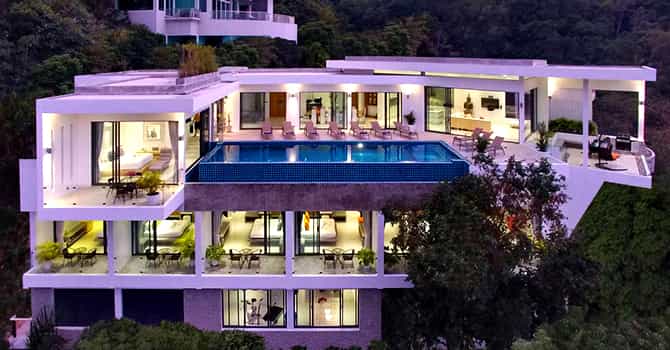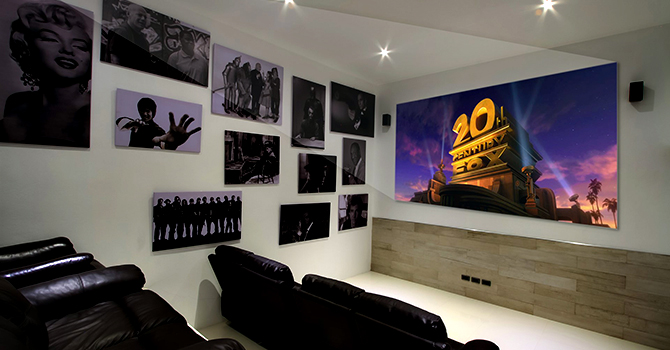 Villa Serenity is situated along the west coast of Phuket, just minutes from the iconic Surin Beach. This gorgeous, nine-bedroom villa is perfect for large family gatherings, corporate functions, or even bachelor parties. Villa Serenity is the ideal home-away-from-home location for memorable parties, weddings, or other special events. The villa's majestic open spaces invoke feelings of liberation and free movement. Enjoy the stunning vistas over the surrounding forests and rolling Andaman Sea while you to take a dip, swim laps, or just soak in the 13-meter infinity pool. Inside there is a cinema room perfect for movie nights or watching sporting events, and on the third level a comfortable 'man cave' features a bar, pool table, and dart board.
Highlight Features
BBQ
Projector/Cinema
Treadmill
Pool Table
Alfresco Dining
Lounge Area
13m Infinity Pool
Staff Services
Bar Counter
Bedrooms
King Bed
Safe Box
LCD/LED TV
Balcony
Closet
Jacuzzi
Lounge Chair
Toilet Shower
Coffee Table
Facilities
Coffee Maker
Ipod Dock
Wii Game
WIFI
SONOS System
Cable TV
Air Conditioner
Blue-Ray Player
Outdoor Sofa
Travel Time
10 minutes drive Boat Avenue
14 minutes drive to Kamala Beach
16 minutes drive Laguna Golf
30 minutes drive to Patong Beach
33 minutes drive to Phuket Airport
8 minutes drive to Surin Beach
What is included
Complimentary use of baby cots and highchairs
Complimentary airport transfer
Complimentary one round trip airport transfer per stay
Extra Charge
F&B at guests cost + 20% additional surcharge from the total shopping bill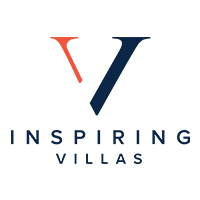 Villa Serenity | 8+1 Bedroom Villa - Bangtao Beach, Phuket
Rental Rate
| Period Dates | Min Night Stay | Price Per Night (USD) | Price Per Night (USD) | Price Per Night (USD) | Price Per Night (USD) | Price Per Night (USD) | Price Per Night (USD) | Price Per Night (USD) | Price Per Night (USD) | Price Per Night (USD) | Price Per Night (USD) | Price Per Night (USD) | Price Per Night (USD) | Price Per Night (USD) | Price Per Night (USD) | Price Per Night (USD) |
| --- | --- | --- | --- | --- | --- | --- | --- | --- | --- | --- | --- | --- | --- | --- | --- | --- |
| 01-May-2017 - 30-Nov-2017 | 3 | 0 | 0 | 0 | 0 | 0 | 0 | 0 | 0 | 1450 | 0 | 0 | 0 | 0 | 0 | 0 |
| 01-Dec-2017 - 16-Dec-2017 | 3 | 0 | 0 | 0 | 0 | 0 | 0 | 0 | 0 | 1750 | 0 | 0 | 0 | 0 | 0 | 0 |
| 17-Dec-2017 - 14-Jan-2018 | 14 | 0 | 0 | 0 | 0 | 0 | 0 | 0 | 0 | 2500 | 0 | 0 | 0 | 0 | 0 | 0 |
| 15-Jan-2018 - 28-Feb-2018 | 7 | 0 | 0 | 0 | 0 | 0 | 0 | 0 | 0 | 1950 | 0 | 0 | 0 | 0 | 0 | 0 |
| 01-Mar-2018 - 30-Apr-2018 | 3 | 0 | 0 | 0 | 0 | 0 | 0 | 0 | 0 | 1750 | 0 | 0 | 0 | 0 | 0 | 0 |
Note:
- Refundable security deposit of $1200 USD is required in any currency upon check-in
Bedroom Configuration
Master bedroom - King bed, ensuite bathroom with Jacuzzi
Guest bedroom 2 - King bed, Shared bathroom with Master
Guest bedroom 3 - King bed, ensuite bathroom
Guest bedroom 4 - King bed, ensuite bathroom
Guest bedroom 5 - King bed, ensuite bathroom
Guest bedroom 6 - King bed, ensuite bathroom
Guest bedroom 7 - King bed, ensuite bathroom
Guest bedroom 8 - King bed, ensuite bathroom
Guest bedroom 9 - King bed, ensuite bathroom
Villas Reviews
We had a fantastic family holiday with 16 of us to celebrate a retirement, 3 birthdays, an anniversary and a surprise engagement. Serenity was the perfect venue. The villa is so spacious and kept immaculate at all times by the wonderful housekeeping team and nothing was ever too much trouble. Great location in the hills with a welcomed afternoon breeze and away from any mosquitos plus only 10 mins drive from some great beaches and shops. All the Vila staff were lovely, very helpful and the food was outstanding

Dave & Suse - April, 2017

Where can I start is the first thing that comes to mind. This place is amazing!! From the sheer size of the place and the beatiful views you will simply not want to go back home. The best thing though has to be the food which was the best Thai food I have ever eaten-period. The chef accommodated us without hesitation and got to know that we like our chillies so he made the perfect dishes which were just right. The whole team including the house manager and housekeeping were brilliant. I'll definitely be back and I strongly suggest you book this place-you will not regret it!

Amit - April, 2017

If you like thai food as good or better than local restaurants - Then this is the place for you! I would say the chef and his team stand out the most about the villa. Very attentive staff and alway around when things go wrong to help out. The house maid was wonderful and ying who looked after us our whole trip was a great host. I was sick most of the trip and Ying went out of her way to get me meds even on Chinese New Year. An nice way to spend 10 days. If you like a high level of customer service then I would recommend this team.

Jon, February 2017

10/10!! Serenity lived up to its name and reputation. We had 20+ people arrive for a retreat from all over the world. Lita and her staff treated us like royalty and went above and beyond for any request! I hope we can return again soon

Mike - November, 2016

We had a wonderful stay at Serenity. The staff was great, house was beautiful and the location was perfect. My family and I spent several weeks at the house and thoroughly enjoyed it.

Mihir - July, 2016

A group of 20 of us stayed here. We loved the villa. It was more beautiful than the pictures. The staff was amazing! The chef(s) were also great! Our food was always on schedule. Everything was perfect. Thank you so much!! I'd definitely recommend staying @ the Serenity Inn Villa Phuket! We were definitely sad to leave!

Babs - February, 2016