 This villa is no longer available for rent here
Discover other luxury villas available in Phuket & Koh Samui
Feel free to
contact us
- our Thailand villa specialists will be happy to
help you find the villa holiday of your dreams.
"The Inspiring Villas Team"
Sleep up to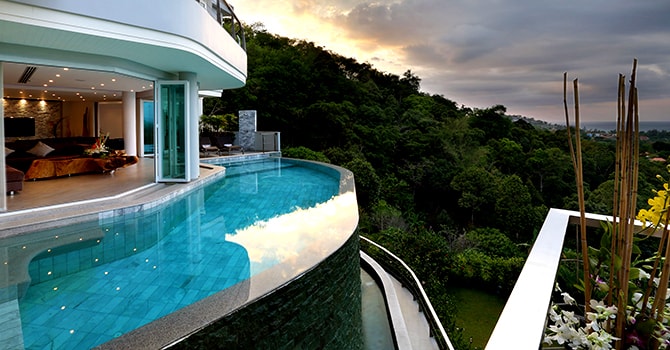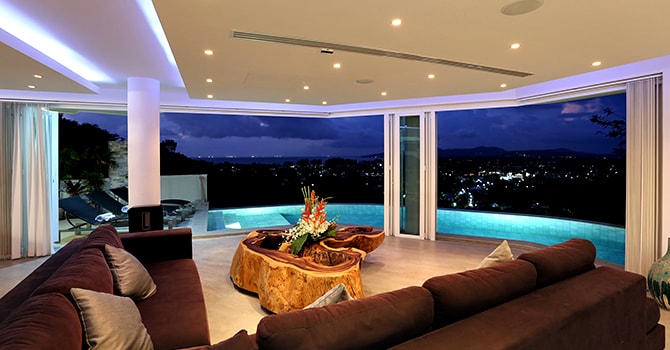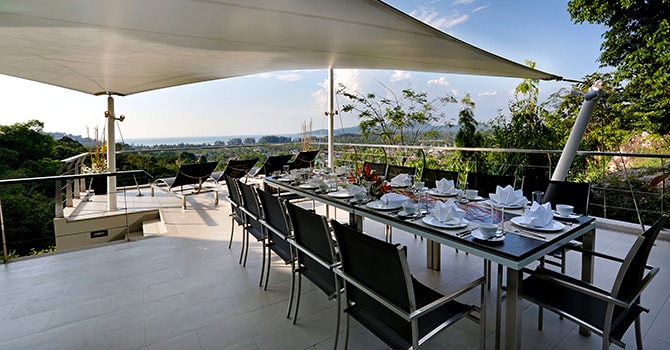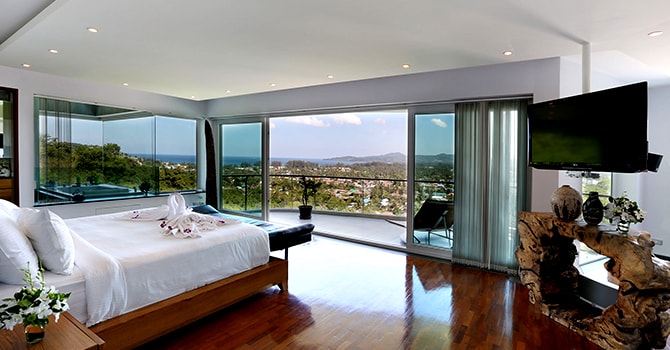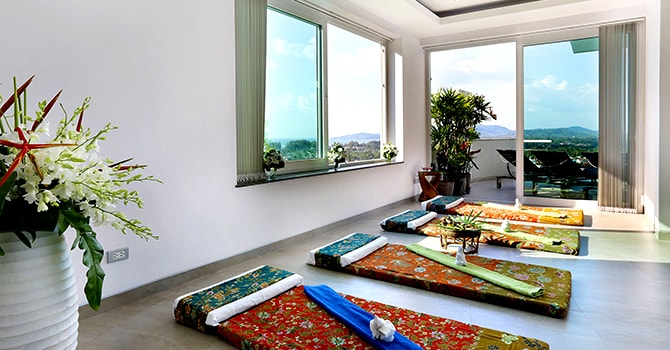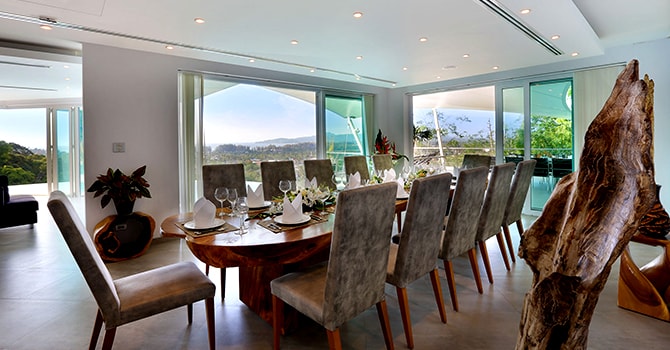 With its expansive open spaces, whitewashed walls, natural light and elegant design, Villa Beyond invites true relaxation. Let the comfortable ocean-facing sofas envelop you, or kick your feet up whist taking in a film in the cozy TV lounge before enjoying a massage in the poolside treatment room. Breathtaking vistas of the turquoise Andaman Sea create an idyllic feel, whose experience is heightened by the manicured lawn of the rooftop terrace. Villa Beyond offers plenty of open common areas, while its six guest rooms and impressive master suite over three levels provide ample privacy, making it ideal for parties or corporate events. Villa Beyond is a short drive from Phuket's premier nightlife destinations and only half an hour from Phuket's International Airport.
Highlight Features
BBQ
Treadmill
Rooftop Lounge
Alfresco Dining
Lounge Area
13m Infinity Pool
Staff Services
Parking Area
Massage Room
Bedrooms
King Bed
Safe Box
LCD/LED TV
Non Smoking
Balcony
Closet
Lounge Chair
Toilet Shower
Shower Bath
Facilities
Coffee Maker
Ipod Dock
Wine Fridge
WIFI
SONOS System
Cable TV
Air Conditioner
Blue-Ray Player
Outdoor Sofa
Travel Time
16 minutes drive to Laguna Golf
30 minutes drive to Patong Beach
32 minutes drive to Central Festival
36 minutes drive to Phuket Airport
7 minutes drive to Tesco Bangtao
8 minutes drive to Surin Beach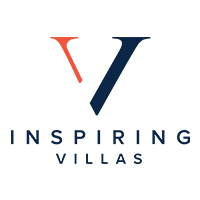 Villa Beyond | 4-7 Bedroom Villa - Bang Tao, Phuket
Rental Rate
| Period Dates | Min Night Stay | Price Per Night (USD) | Price Per Night (USD) | Price Per Night (USD) | Price Per Night (USD) | Price Per Night (USD) | Price Per Night (USD) | Price Per Night (USD) | Price Per Night (USD) | Price Per Night (USD) | Price Per Night (USD) | Price Per Night (USD) | Price Per Night (USD) | Price Per Night (USD) | Price Per Night (USD) | Price Per Night (USD) |
| --- | --- | --- | --- | --- | --- | --- | --- | --- | --- | --- | --- | --- | --- | --- | --- | --- |
| 01-Jul-2017 - 31-Aug-2017 | 2 | 0 | 0 | 0 | 895 | 1100 | 1150 | 1150 | 0 | 0 | 0 | 0 | 0 | 0 | 0 | 0 |
| 01-Sep-2017 - 31-Oct-2017 | 2 | 0 | 0 | 0 | 850 | 950 | 990 | 990 | 0 | 0 | 0 | 0 | 0 | 0 | 0 | 0 |
| 01-Nov-2017 - 15-Dec-2017 | 3 | 0 | 0 | 0 | 895 | 1100 | 1150 | 1150 | 0 | 0 | 0 | 0 | 0 | 0 | 0 | 0 |
| 16-Dec-2017 - 26-Dec-2017 | 7 | 0 | 0 | 0 | 995 | 1250 | 1290 | 1290 | 0 | 0 | 0 | 0 | 0 | 0 | 0 | 0 |
| 27-Dec-2017 - 15-Jan-2018 | 10 | 0 | 0 | 0 | 2450 | 2450 | 2450 | 2450 | 0 | 0 | 0 | 0 | 0 | 0 | 0 | 0 |
| 16-Jan-2018 - 14-Feb-2017 | 3 | 0 | 0 | 0 | 995 | 1250 | 1290 | 1290 | 0 | 0 | 0 | 0 | 0 | 0 | 0 | 0 |
| 15-Feb-2018 - 21-Feb-2018 | 5 | 0 | 0 | 0 | 1290 | 1290 | 1290 | 1290 | 0 | 0 | 0 | 0 | 0 | 0 | 0 | 0 |
| 22-Feb-2018 - 04-Mar-2018 | 3 | 0 | 0 | 0 | 995 | 1250 | 1290 | 1290 | 0 | 0 | 0 | 0 | 0 | 0 | 0 | 0 |
| 05-Mar-2018 - 28-Mar-2018 | 3 | 0 | 0 | 0 | 895 | 1100 | 1150 | 1150 | 0 | 0 | 0 | 0 | 0 | 0 | 0 | 0 |
| 29-Mar-2018 - 02-Apr-2018 | 5 | 0 | 0 | 0 | 1290 | 1290 | 1290 | 1290 | 0 | 0 | 0 | 0 | 0 | 0 | 0 | 0 |
| 03-Apr-2018 - 23-Apr-2018 | 3 | 0 | 0 | 0 | 995 | 1250 | 1290 | 1290 | 0 | 0 | 0 | 0 | 0 | 0 | 0 | 0 |
Note:
- Refundable security deposit of $1500 USD is required in any currency upon check-in
Discount
Last minute bookings enjoy 15 % discount when checking in before 7 days
Bedroom Configuration
Master Bedroom - King bed, ensuite bathroom with Jacuzzi
Guest Bedroom 2 - King bed, ensuite bathroom
Guest Bedroom 3 - King bed, ensuite bathroom
Guest Bedroom 4 - King bed, ensuite bathroom
Guest Bedroom 5 - King bed, ensuite bathroom with bathtub
Guest Bedroom 6 - King bed, ensuite bathroom
Guest Bedroom 7 - King bed, ensuite bathroom
Villas Reviews
"Exactly what you get on the tin, and more." Mostly perfect services. 14 of us checked in. Transport service was great. Villa itself was in good condition. Although most staffs don't speaker english, but they made up for it by providing excellent selfmotivated services, and very hard working. The manager Ms Oi, who understand english well, was always around to help in all matters; very helpful in communicating with local Thai people for us both in and away from the villa by phone or text. She always provide useful local information with good common sense.

Vincent, Hongkong - June 20, 2015

"Never dreamed we could stay anywhere so nice" 15 of us stayed here for my wife's 30th birthday (they put an extra bed in the spa room). The experience was beyond all expectations. The place is huge, incredibly stylish and kitted out with every mod-con. We felt like we were on mtv cribs! All bedrooms were large and the music system connected to every room as desired. Huge comfortable beds and high end bathrooms throughout the property.

Gita S., Bangkok - April 18, 2015

"No words can describe" Absolutely perfect, the building, service, food, everything. I cannot rate highly enough. I will be back.

TCC, Perth - January 27, 2015

"The Hidden Gem in Phuket" The week we spent at this place was simply amazing. The property is located in a private setting and the owners obviously take pride in keeping this place very well maintained and extremely clean. All the rooms are spacious and the décor and furnishings are done tastefully. The infinity pool and the views are simply breathtaking. We would love to return for another stay in the near future.

Kjehan, Vancouver - January 14, 2016