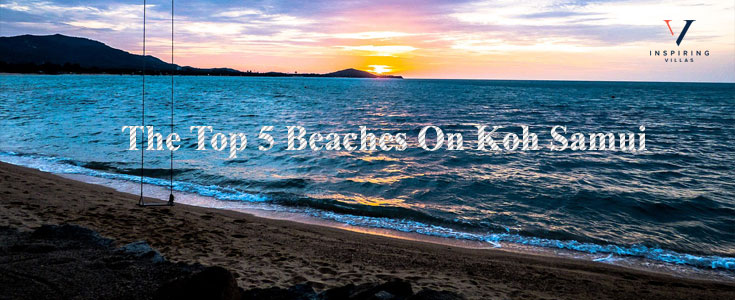 The Top 5 Beaches On Koh Samui
When deciding on the best beaches in Koh Samui, it's a seemingly impossible task, given how much variety there is. And whilst Samui certainly isn't the largest tropical island in Thailand, at 228.7 km², there's plenty of coastlines to explore (somewhere in the region of 40 bays, beaches, and coves).
Then of course, what is it that you're looking for in a beach? What is considered best for some, might be substandard for others. So, what we're going to do in this article, is hand-pick a few of the top contenders, based on the most important criteria.
Privacy
Accessibility
Cleanliness
Facilities (bars/restaurants/sun-loungers/water sports)
Space
Everyone has a factor on that list which takes precedence over the rest. I, for example, prefer a private beach with very few people around, though cleanliness is paramount. I don't mind a small beach and I'm happy to veer off the beaten path in order to find a true gem. Hopefully, we will list something which ticks all your boxes and gets you excited about your vacation. So, without further a due, let's explore the best beaches in Koh Samui.
Best Beaches Koh Samui
1 – Chaweng Beach
Chaweng beach is one of the largest (and arguably most beautiful) beaches in all of Koh Samui. If the powdery white sands and clear turquoise water isn't enough to pique your interest, then the fact that it is within proximity to one of the busiest areas on the island just might. There are plenty of shops, bars, restaurants and stunning accommodation options to choose from—which explains why this is among the most popular spots in Samui.
However, for those of you who value the privacy and are on the lookout for something a little more tranquil, then Chaweng might not be the spot for you. Certainly, the beach is large enough for you to find a quiet little corner of the beach for yourself; however, if you're after quaint and quiet, you'll be better off on another beach.
2 – Bophut
Bophut beach is several kilometres long, spanning the northern reaches of the island. It is separated into two sections: the main beach itself, and the strip of restaurants, bars and accommodation that makes up the world-renowned Fisherman's Village. If you prefer a beach with plenty of nearby amenities and facilities and ease of accessibility, then Bophut is for you.
Further up from Fisherman's village you can enjoy a little more privacy on the beach, boasting clear waters and thick-yellowish sand. However, if you'd prefer to enjoy a nice stroll with a spot of dinner on the beach, then Fisherman's village will be the spot for you. In addition to that, they have a thriving night marketing from 5 pm through till 11 pm on a Friday, bringing this otherwise peaceful spot to life with a vibrant variety of stalls and pop-up snack vendors and cocktail bars.
When Koh Samui beaches are concerned, you simply must pay Bophut a visit at least once!
3 – Lamai Beach
Lamai lies to the south of Chaweng, in the south-east of Koh Samui. Whilst it's not as large as Chaweng, it is the second largest on the island still. It boasts plenty of gorgeous scenery, including the large granite boulders which landmark the spot. It also has plenty of gorgeous fishtail palms that run the length of the beach, further adding to that charming tropical vibe.
The water itself is beautiful and clear and is arguably one of the best spots on the island for taking part in water sports of enjoying a nice, long swim. Lamai, whilst still relatively busy, is far quieter and more peaceful than the sister beach of Chaweng. That said, there are still plenty of bars, restaurants and affordable accommodation in close proximity for those who'd like to hang around.
4 – Choeng Mon
As far as Koh Samui beaches go, Choeng Mon is the upmarket treasure that is perfect for those of you who are looking for a little peace and quiet, without sacrificing convenience. There are a number of gorgeous resorts in close proximity, ranging from 3 to 5 stars (offering something for all budgets). It's only 700m in size, however, the powdery white sand and charming rock formations make it a truly worthwhile visit. This spot is especially great for snorkelling, so if you'd like a leisurely dip without too much in the way of distraction, then you'll absolutely love this charming beach.
5 – Taling Ngam
Depending on what you're looking for, Taling Ngam could well be at the very top of this list—particularly if it's pristine sunsets and peace and quiet that you're after. This is a 20-30-minute journey from the nearest town, however, there are some choice accommodation spots available nearby for those looking to enjoy the peace, quiet, and privacy.
You're not going to be spoiled for choice with bars and restaurants, but Taling Ngam is without question, one of the most picturesque spots in all of Koh Samui. As far as Koh Samui beaches go, this is a personal favourite, without question.
Conclusion
The conclusion? It's very difficult to decide on which beach is best! These are just a handful of the wonderful beaches available in Koh Samui. Other great spots include Maenam, Lipa Noi, Silver Beach, Bang Por, Samrong Beach, and Thongson bay. If you are staying long enough, why not try to visit them all and decide for yourself? You can rent a bike easily enough and go for a bike ride at your leisure. In any case, we hope you have an incredible vacation!
Are you looking for a little more privacy for your vacation? Perhaps you'd prefer to stay in your own luxury villa as opposed to a resort? Well, if that's the case then you'll be pleased to learn that we have a number of stunning villas with their own private beaches! Come and check them out.