 This villa is no longer available for rent here
Discover other luxury villas available in Phuket & Koh Samui
Feel free to
contact us
- our Thailand villa specialists will be happy to
help you find the villa holiday of your dreams.
View our luxury villa collections in
Kata Beach
or
all villas available in
Phuket
"The Inspiring Villas Team"
Sleep up to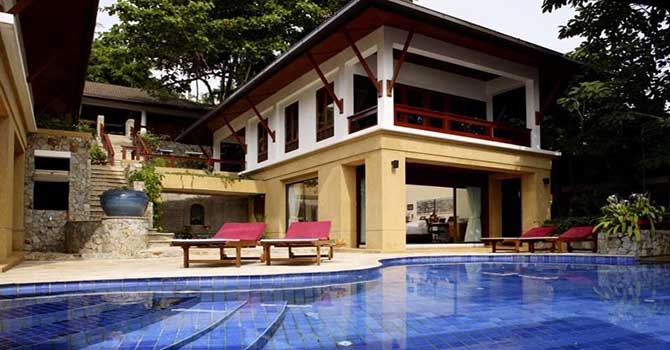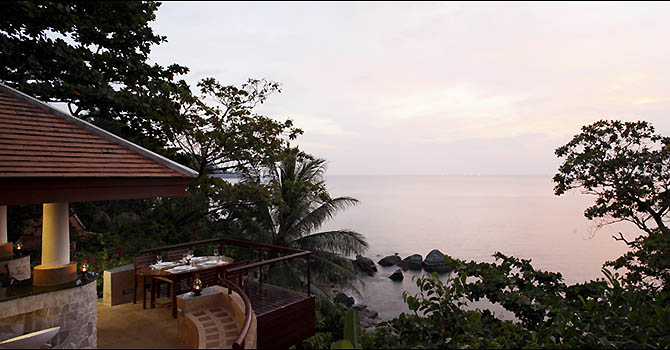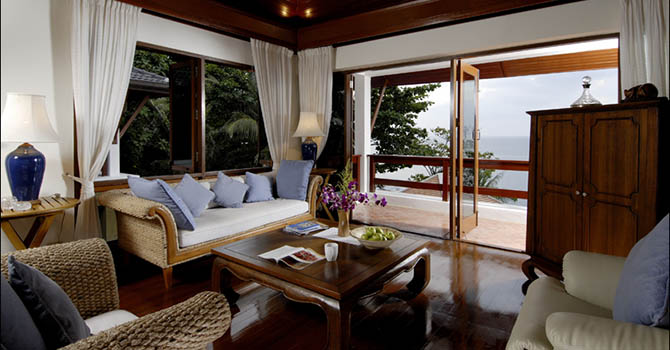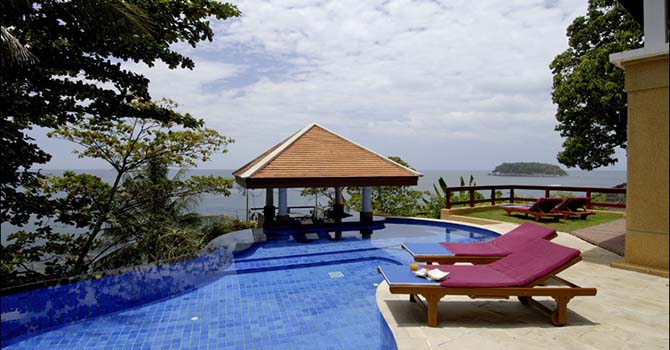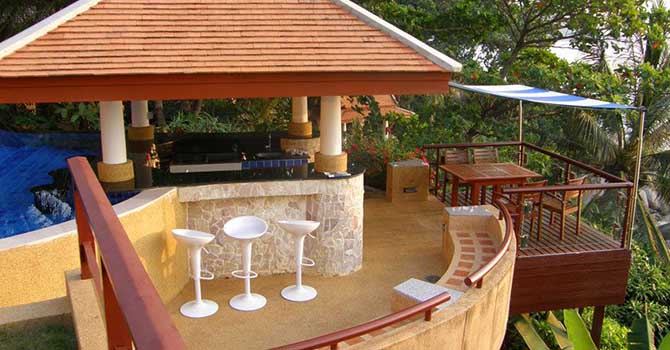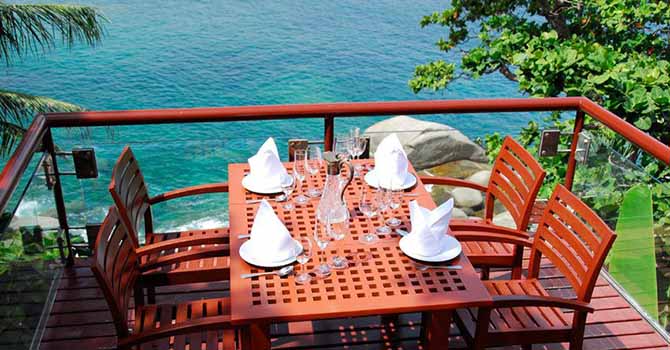 Luxury 4 bedroom Ocean View Villa Baan Chill Kata is an incredible property steps from Phuket's most serene beaches. Overlooking crystal clear waters, white sands, and lush jungle, this fantastic Villa is the idyllic setting for large group holidays from business or fitness retreats to family gatherings and even wedding parties! Featuring a luxurious pool surrounded by green gardens and an expansive, sun drenched pool deck, the villa is perfect for entertaining, relaxing, and enjoying the beauty of Thailand. Combining ease of access to local top restaurants and nightlife with serene simplicity and privacy, this Villa truly offers a unique escape. Swim up to the bar within the pool, or watch the sunset from a plush outdoor lounger - it's up to you how you enjoy the incredible amenities of this stylish home away from home.
Highlight Features
Jacuzzi
Alfresco Dining
Outdoor Sala
Family Friendly
Parking Area
Saltwater Pool
In-villa Spa
Swim-up Bar
Solar Power
Bedrooms
Queen Bed
King Bed
Safe Box
Non Smoking
Balcony
Closet
Toilet Shower
Bathtub/Shower
Lounge Chair
Facilities
Coffee Maker
DVD Player
BBQ
WIFI
Air Conditioner
Sun Loungers
Washing Machine
MP3
Satellite TV
Travel Time
16 minutes drive to Karon Beach
17 minutes drive to Chalong Pier
18 minutes drive to Patong Beach
33 minutes drive to Phuket Town
5 minutes drive to Kata Beach
52 minutes drive to Phuket Airport
What is included
Complimentary use of baby cots and highchairs
Staff service inclusion
Full staff service (villa manager, maid & chef) (Between ….am - ….pm)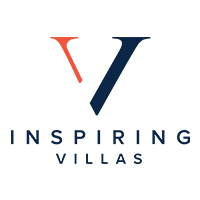 Baan Chill Kata | 4 Bedroom Villa - Kata Beach, Phuket
Rental Rate
| Period Dates | Min Night Stay | Price Per Night (USD) | Price Per Night (USD) | Price Per Night (USD) | Price Per Night (USD) | Price Per Night (USD) | Price Per Night (USD) | Price Per Night (USD) | Price Per Night (USD) | Price Per Night (USD) | Price Per Night (USD) | Price Per Night (USD) | Price Per Night (USD) | Price Per Night (USD) | Price Per Night (USD) | Price Per Night (USD) |
| --- | --- | --- | --- | --- | --- | --- | --- | --- | --- | --- | --- | --- | --- | --- | --- | --- |
| 15-Dec-2017 - 15-Jan-2018 | 14 | 0 | 0 | 0 | 1750 | 0 | 0 | 0 | 0 | 0 | 0 | 0 | 0 | 0 | 0 | 0 |
| 16-Jan-2018 - 30-Apr-2018 | 7 | 0 | 0 | 0 | 975 | 0 | 0 | 0 | 0 | 0 | 0 | 0 | 0 | 0 | 0 | 0 |
Note:
Bedroom Configuration
Bedroom1 - King bed, ensuite bathroom
Bedroom 2 - King bed, ensuite bathroom
Bedroom 3 - Queen bed, ensuite bathroom
Bedroom 4 - Queen bed, ensuite bathroom
Villas Reviews
From arriving at the villa to leaving we were treated to a very luxurious stay. The accommodation is first class well maintained and provides for your every comfort. Best night's sleep I have had away from home the beds are so comfortable and the rooms are much better than a hotel. 
Jjag321., Birmingham, United Kingdom
- Jun 28, 2017Â 
The villa is about an hours drive from the airport but you get picked up in a comfortable, air-conditioned van and that was easy. It is beautifully located in between two lovely beaches only a few minutes walk away.
Helenmaryt., Toowoomba, Australia
- Apr 5, 2016
The villa exceeded our expectations. The location was fantastic overlooking the sea with great sunset views, there were 2 beaches within a 5-10 minute walk. The rooms were comfortable with good showers. 
StryW., Melksham, United Kingdom
- Feb 27, 2016
Can't speak highly enough of this fantastic private villa. Beautiful location with stunning view of the ocean. Four beautifully appointed detached bedrooms and great facilities. 
StooChalong., Chalong
- Â Sep 18, 2013Â 
It was perfect. There was absolutely no need to go out when we had better quality meals at the house, we were all wanting to take Nich home with us. Nit also did a great job cleaning our rooms each day.
Peteonhol., Sydney, Australia
- May 14, 2013
We stayed here in May for a week to celebrate my partner's 40th, with our 4 year old, and four friends. The villa really had something for all of us, although probably top of the list for everyone was the magnificent pool, with the views over the ocean - perfect for watching the sun go down. 
Kirstyangela., Sydney
- May 14, 2013
The location is peaceful & awesome and the sea view from the villa was excellent. Rooms, pool, bar and the locality was very clean. The chef was wonderful and we even tried our hands at the kitchen. 
A FlipKey., INDIA
- April 28, 2013
This property has a real Thai feel, with stunning views from many locations around the villa complex. The swim-up bar is a real feature, as is the dining facility overlooking the ocean.
KJJHk., HK
- Â April 8, 2013
The villa was perfect for our needs - great location, fantastic pool, And we were extremely well looked after by Nuk and co. It was our first trip overseas with the kids, but Chris looked after all our needs such as cots, high chairs, arranging car seats etc, which made everything so much easier.
Liam P., Brisbane
- Oct 28, 2012Â 
My family and I spent a week at Chris's wonderful villa. The views, the accomadations, the pool, everything is of the highest quality. Nouk met with us every morning and made meals of whatever we requested.
Lizzy B., San Diego, California
- Sep 2, 2012
4.9

/

5

stars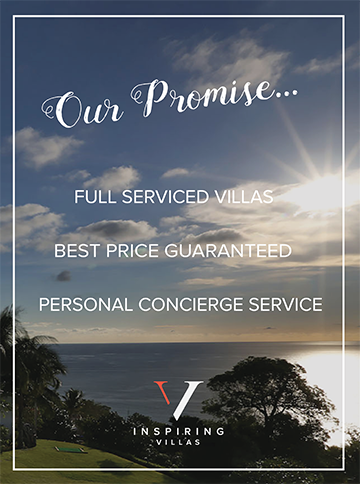 Enquire Now